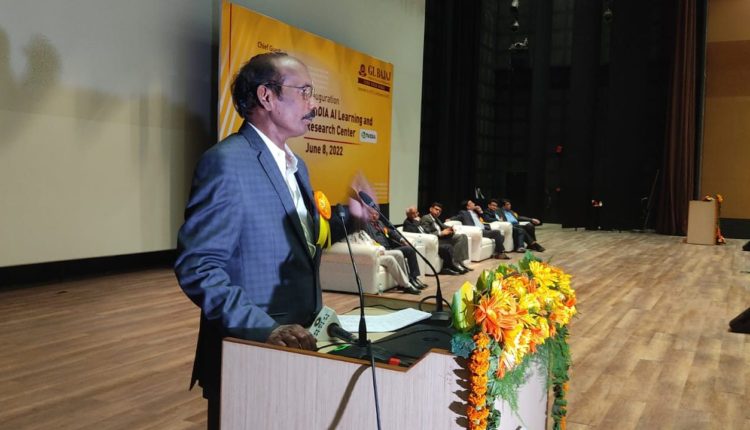 GL Bajaj takes huge leap in tech as former ISRO chairman inaugurates powerful AI server used in Ivy league colleges
Greater Noida, 8th June: Artificial Intelligence is the most important technology force of the present times which is revolutionizing every industry globally. There is immense potential in the field of artificial intelligence and machines. Nvidia AI Learning and Research Center has been established in the GL Bajaj campus to benefit the students from these possibilities. The center was inaugurated on June 8, 2022 by ex-Chairman of ISRO, Eminent Scientist, Rocket Man of India, Dr. K. Sivan. GL Bajaj is the first and only institute to install this server among all the institutes under AKTU in entire Uttar Pradesh. This server is being used by well-known universities of the world such as University of Chicago, MIT University, University of New York etc. to train students.
In his address, Dr. Sivan praised GL Bajaj Institute for this initiative. He said that students should always be excited to learn new things. AI is a new field and it is going to be very broad in future so students should start preparing for it. He also said that the use of technology should not be limited to urban areas only, but it should be used to improve the lives of people in rural areas as well. He explained this in detail with many examples. Along with this he also shared his experiences. His impressive oratory and inspirational speech stunned everyone.
Speaking during his welcome address on the occasion, Pankaj Aggarwal, Vice Chairman of the Institute said that GL Bajaj Institute is committed to provide excellent resources. "This is GL Bajaj's first step in the field of AI. After this GL Bajaj intends to provide training not only to the students studying in GL Bajaj but also to the people outside GL Bajaj. Along with this, training programs will also be organized for the faculty in collaboration with the industry and research in the AI ​​field will also be carried forward by doing international collaborations. He further told that the server installed in this center is worth Rs 2 crore and its capacity is 250 times more than that of a common server. It is generally used by big companies working in AI field," he said.
On this occasion, Professor Manas Kumar Mishra, Director of the college also addressed the audience. He said that in the coming time, about 97 million new jobs will come in the field of AI, that is why it is necessary for the educational institutions to create the best infrastructure in the field of AI and get involved in creating a skilled workforce in the field of AI. For this it is also necessary that students should be given continuous training for this and hands-on training should also be done on the servers used in the industry so that they can compete at the global level. Taking a step in this field, GL Bajaj Institute has established the Nvidia AI Learning and Research Center. He also mentioned various achievements of GL Bajaj.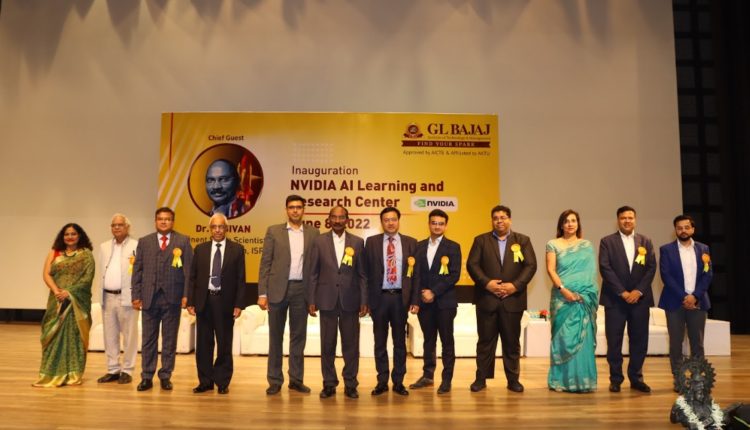 Speaking to Ten News post event on role of AI in space exploration, Dr. Sivan said, "AI and ML are going to be used in all the areas like agriculture, healthcare, disaster management. If we talk about space, it will particularly be used in remote sensing area. This AI and ML is data driven and remote sensing is also data driven, so these technologies are going to be useful here."
Appreciating GL Bajaj, he said, "I congratulate the entire GL Bajaj team and Vice Chairman for taking this initiative. I really appreciate the fact that he is bringing together industry and academia which will produce more and more entrepreneurs instead of job seekers."
Shridhar Garge, Head Business Strategy, Channels, Planning & Programs, Abhishek Agarwal, Founder CEO, Global Info Ventures, Dr Manoj Kulshrestha, Vice President, Global Info Ventures also addressed the audience from the Nvidia team at the event. Dr. Anita Singh, DRDO, and Sanjay Makhija, Regional Head, Nvidia were also present on the occasion.
Photo Highlights of Inauguration of NVIDIA AI Learning and Research Center at GL Bajaj by Former ISRO Chairman K. Sivan