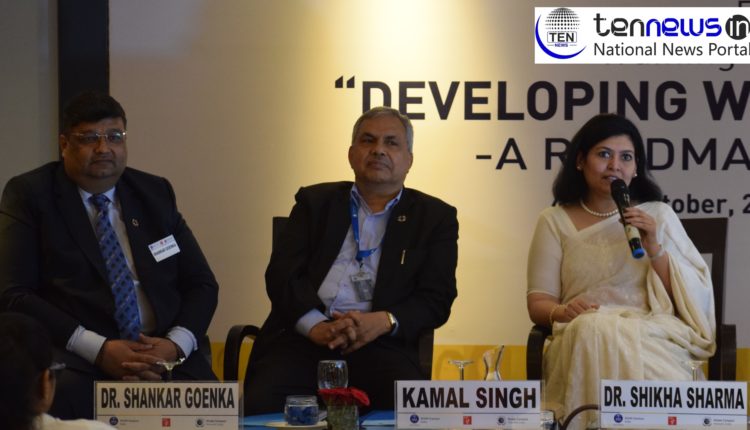 New Delhi: Women empowerment is one of the most powerful topic today in India and on Thursday , WOW Factors in collaboration with Global Compact Network organised a training programme on "Developing Women Leadership – A Road To Success" at Hotel, The Lalit, New Delhi.
Dr. Shikha Sharma, MD, Nutrihealth addressed the audience with her own life full of struggle, she shared the moments she faced in her life which made audience think, "Is it really possible?"
Shikha Sharma said ,
"It's always bad according to the society if a woman rebels! According to society, only a man can be a rebellion. But what I think is that one should always rebel whether a man or a woman only if he/she is right about what he/she thinks."
Prof. R.R Sharma, ED, WOW factors was very much involved in the discussion that was happening about leadership roles of women.
He addressed the audience with a motivating speech and presentation.
He said,
"Failure is nothing, it's just some kind of obstacle that make you stop in moving forward.According to World Bank Report, India is at the 120th position among 131 nations that are working for women force today."
He also talked about important aspects of leadership and management that are required to be a good leader whether a man or a woman."
Nasreen Khan, NLP Trainer, Coach; Behavioral Skills Facilitator, Catalysts Advisory Coaching and Training also attended the event and while she was addressing the audience, she came up with a team test in which she assigned some creativity tasks to 8 teams which was done so as to observe leadership and teamwork skills of these women.
Tennews when talked to her about the reason behind the task she gave to the teams, Narseen said,
"This task I gave to them was to test their creativity when they come together as a team and they were provided with limited sources because if we really want to test someone, we should always ask a good amount of work with minimum amount of sources."
Kamal Singh, ED, GCNI emphasized the importance of flagship program to launch women into top positions.
Kamal Singh when asked about the motto of the programme said that,
"UN Global Compact organises such women leadership programme all over the India and we are gonna catch up our southern States as well. Our vision is to create good women leaders and to make good women leaders get the fame they deserve."
Dr. Shankar Goenka, MD, WOW Factors delivered a very motivating speech about his life, he shared his journey from quitting a company with 1000 crore of turnover to starting WOW Factors.
Ten News when asked him about WOW Factors and the reason behind starting this programme, he said,
"WOW Factors just have one motto that is to give its clients a WOW experience and the reason behind organising this programme is just to support the emerging women leaders. We are organising this programme since November, 2017 and have covered 4 major cities is India, we are now moving ahead to organise such …