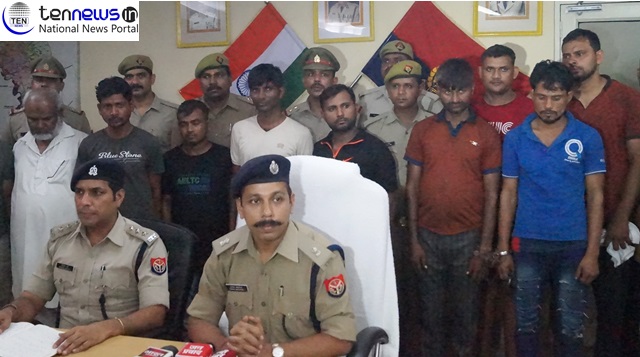 Greater Noida police busts gang of robbers, ten arrested from expressway
Saurabh Kumar
Today Greater Noida Police busted a gang of vehicles battery robbers and scrap dealers. During the raid Police arrested 7 members of the gang from Eastern peripheral Expressway at around 3 in the morning. While three more scrap dealers were arrested later based on the information provided by arrested accused.
This gang majorly used to rob batteries from trucks and vehicles that are parked besides the Expressway after Midnight.
The action was initiated on a complaint registered by a victim regarding his vehicle battery being robbed from Eastern peripheral Expressway while the vehicle was parked there. Responding over that Dadri Police, acted on information received through an informer. They plotted a trap and followed the vehicle of gang over Expressway and arrested them red handed while they were committing the crime.
Police had recovered a total of 3 country made gun two of .315 bor and one of .12 bor along with three live cartridges and four knife. Police also recovered three cars Honda accord, Chevrolet Optra, Maruti Brezza over which they use to commute for conducting robberies. During checking of the vehicles police also recovered 3 kg 300 gram and 3 kg 200 grams of Marijuana from two cars respectively.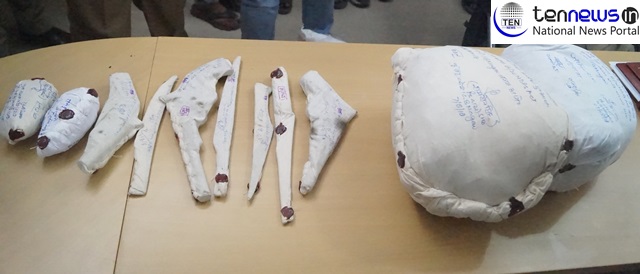 SP Rural Ashish Srivastav said that "this gang is a very notorious kind of gang which belongs to Khurja Dehat of Bulandshahar District and used to operate in a very organized manner. First they noted the pattern of truck drivers and then spotted the area where truck driver use to sleep. There after around 2PM in night they use to leave for Expressway from Khurja Dehat and then commit the crime between late night and early morning hours of 3 to 6. After insuring that the truck driver fall asleep some members of the gang use to open the battery and rest use to keep eye over driver. If meanwhile driver wakes up then the other member use to overpower them by using weapons"
"Thereafter they handover the robbed material to the other gang of scrap dealers on behalf of cash. Then the scrap dealers pass over the material to big scrap dealer and from their batteries are sold in retail market. The arrested scrap dealers also own a shop over Ghaziabad- Meerut road".
Further he added that "For now the gang is targeting only this particular Expressway because for now we are not able to provide the kind of security that needed to be there because Expressway don't have proper entry and exit point. Three accused are still absconding who will also be nabbed soon."
The arrested accused are identified as Samshudin, Jaykishan,Lokesh, Veer Pal, Kapil, Kuvar kesh, Bablu, Neeraj, Islamudin, Waseem. Over this massive success achieved by Dadri Police SSP Ajay Pal Sharma awarded the whole team with cash prize of 15 thousand rupees.