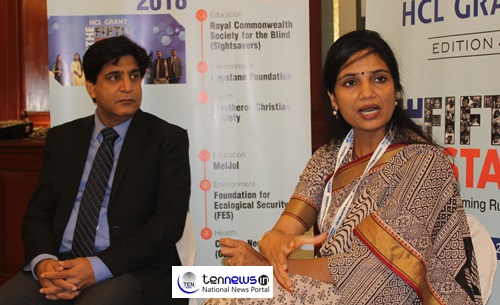 New Delhi: In a bid to promote Non-Government Organizations (NGOs) to continue their better work and grant funds to them for the same, software giant HCL has initiated a flagship programme HCL Grant 'The Fifth Estate'.
The eleventh symposium of the foundation has been organised under the banner of HCL foundation in New Delhi today. The foundation is a Corporate Social Responsibility (CSR) arm of HCL Technologies, which fund NGOs on the basis of their commendable work.
Foundation grants Rs 16.5 crores to NGOs each year, which work in the field of Education, Health and Environment after evaluating their ground work. 
Today, the foundation hosted a various sessions where NGO's working in the areas of health, environment, education, livelihood, from 10 odd cities have participated. 
Speaking in the promotional event, CSR head, HCL foundation, Nidhi Pundhir said, we launched this programme in 2015 and every year we grant 15 crore to the NGOs for their commendable work in Education, Health and Environment.
"Till now, our foundation has granted Rs 35 crores to the NGOs and initiated slew of schemes like Going to school, Meljol, CINI and so on  in remote villages of Bihar, UP, Maharashtra, Jharkhand, Rajasthan, West Bengal, Tamil Nadu and so on."  
This year, the foundation has extended its budget to Rs 16.5 crore. "We select NGOs on the basis of their work after seeking online application and proper evolution of their work by expert juries."
By organising workshop and symposhim the foundation is also helping NGOs to prepare projects, portfolio and so on.