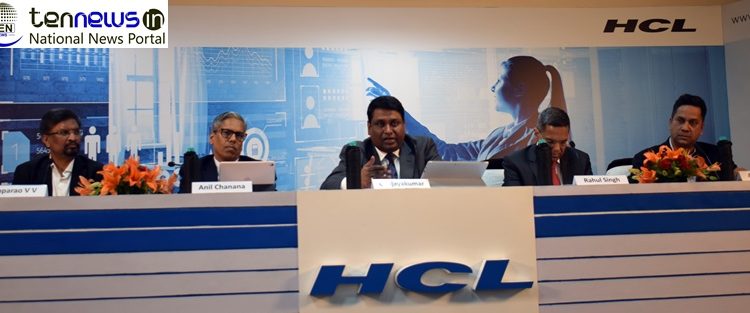 HCL technologies annual revenue crosses INR 50,000 crore in financial year 17-18, predicts 9.5%+ growth for 18-19!
Ashish Kedia (Photo/Video by Lokesh Goswami Ten News)
HCL Technologies today released its annual report to share financial results and corporate performances for the fourth quarter and financial year 2018-19. The global conglomerate announced that it had crossed revenue milestone of crossing INR 50,000 mark in fy 2017-18 and its quarterly revenues exceeded US$ 2 Billion milestone.
On the income part it revealed that while earnings before interest and tax remained at 9,987 crore, its net income for this year was 8,780 crore.
The company has witnessesed broad based growth verticals driven by manufacturing at 18.3%, financial services at 13.3%, Life sciences & Healthcare at 8.1%, Retail & CPG at 7.5% and Public services at 2.6% (On constant currency).
It also revealed that revenues for mode 2 and mode 3 offerings together grew at 41.5% in 12 months period ending Mar'18. The share of Mode 2 and Mode 3 revenues together stands at 23.4% for FY'18, compared to 18.6% for FY'17.
Talking of the driving factors behind it, HCL Technologies CEO C.Vijaykumar claimed, "Led by Digital and Analytics, Mode 2 grew by 29.4% YoY across lines of business and geographies. In FY-18 Mode 3 contributed 8.7% to the revenue and grew at a healthy rate 68.3% YoY. Investments proposed in product management, R&D and GTM".
He said, "We remain confident of the new fiscal year in light of the increasing relevance of our business offerings coupled with our strategic investments in technologies of the future".
Speaking at the press briefing Anil Chanana, CFO, HCL Technologies said, "We are happy witht the overall FY'18 performance. We have achieved on both revenue and margin front. We continue to report industry leading growth per employee of $ 66,406 on the back of our digital, cloud, cyber security, IoT and Ip led offerings".
The company also announced dividend of Rs2 per share and 61st consecutive quarter of dividend payout. Return on equity at 25.2%.
Projections for FY'19 :
Financial year 2019 revenues are expected to grow between 9.5% to 11.5% in constant currency (based on Fy-18 April to March average exchange rates).
Operating margin for FY19 is expected to range between 19.5% to 20.5.