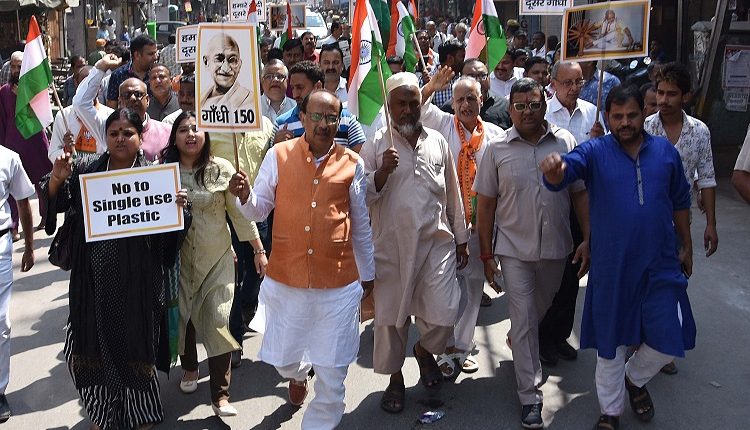 Holding Gandhi's and Modi's photos in hands, people undertake Padyatra with Vijay Goel

 New Delhi, 09 October, 2019: MP and former BJP Delhi President, Vijay Goel, undertook padyatra at Chandni Chowk, Chawri Bazar, Ballimaaran and Khaari Baoli. The padyatra received hearty welcome from both Hindus and Muslims alike. People enthusiastically participated in the padyatra holding tiranga, and placards of "swacchta lao, plastic bhagao".
Goel is undertaking the padyatras with the aim of spreading the message of Gandhi and Modi on Gandhi's 150th birth anniversary in different parts of Delhi.
Goel said that this yatra is being undertaken to spread the message on Gandhi ji on the call of PM Shri Modi ji. This will also help the party in elections. On one hand, Goel is spreading the message of cleanliness, inclusivity, anti-casteism and boycotting plastic, and on the other hand, he is spreading Modi ji's message of 'Beti Bachao, Beti Padhao' abhiyaan and respecting women. Goel told that Gandhi ji had said that no one should tolerate injustice and should firmly speak up against evils.
Kejriwal did not cooperate with Central government for last five years and did not implement schemes like PM Awas Yojana and Ayushman Bharat. Goel told that Manish Sisodia is himself the chairperson of Shahjahanabad Redevelopment Board whose function is to develop Chandni Chowk but it has not spent even a single penny on the development. Today naked electricity wires hang around Chandni Chowk and Delhi government is hindering MCD's work as well. It is not releasing funds for development of Chandni Chowk either.
Goel cautioned people that Kejriwal has converted Delhi into a slum in last five years, and it did not contribute to the development of Delhi in last five years. With just two months to elections, it is offering freebies to gather votes.