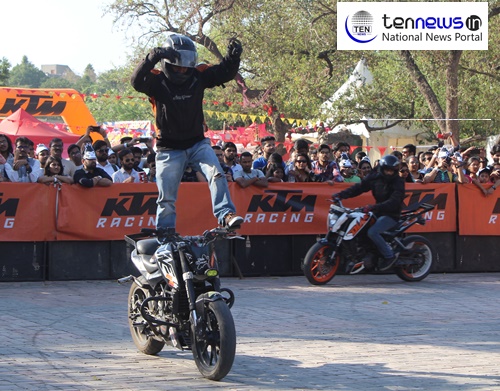 #HornOkPlease Food Truck Festival: Professional Bikers enthrall audience with breath-holding stunts!
PHOTO/VIDEO – JITENDER PAL- TEN NEWS
STORY BY KASHIF HASNAIN
Stuntmen Mounty and Jassi enthralls audience with breathholding stunts at Food Truck Festival
New Delhi: A group of professional bike stuntmen performed breathholding stunts in an ongoing Horn Ok Please, Food Truck Festival today.
The event was organised by
Kronreif & Trunkenpolz Mattighofen (KTM) in a bid to promote the company during the event.
The three-day long food festival is being organised at Jawaharlal Nehru Stadium Gate-14, since March 9, 2018.
The amazing stunts enthralled the audience. The stuns were performed by professional rider group 'Team Ever Last' Mounty and Jassi with all safety gears.
Organiser of the event, Baggha Link said, "The event was organised to promote the company and it's latest bikes."