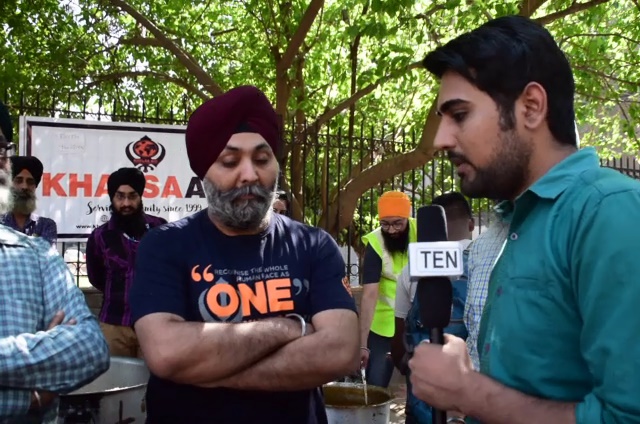 SSC Scam: Khalsa Aid Provides Free Food and Water To Protesting SSC Aspirants! 
Prerit Chauhan (Photo/Video) By Lokesh Goswami Ten News Delhi :
New Delhi: Swaraj India President Yogendra Yadav on Friday demanded that the Staff Selection Commission (SSC) should suspend all examinations under process till the CBI probe on the alleged paper leak of Combined Graduate Level (CGL ) 2017 exam is completed.

Candidates have been protesting outside the SSC office at the CGO Complex in New Delhi since February 27th, alleging that the CGL 2017 papers have been leaked on social media.
Despite the Jawaharlal Nehru Stadium metro station Shut down and No Toilets, Food and Water Facilities, SSC Protesters Maintained their calm and decided to protest silently till their demands are fulfilled. Coming to their Rescue The Khalsa Aid Provided Free Food and water To Protesting SSC Aspirants.
Speaking to Ten News Khalsa Aid Volunteers Said, "Humanity is above all. Our volunteers are also on border of Bangladesh/Myanmar and are reaching out to refugees. Khalsa Aid has been supporting these type of causes from past some years and our work continues".

SSC Protesters Speaking about the Good Work by Khalsa Aid said, "We are so grateful to Khalsa Aid. They are doing a marvellous job across the globe & we are proud of them.Thank You so much for Providing food to the students."