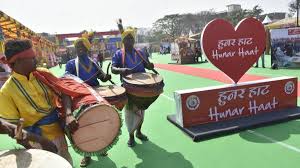 "Hunar Haat" After about 7 months with "Vocal for Local" theme resumed from 11 to 22 November 2020 in Dillihat, Pitampura
Ten News Network
"Hunar Haat" is set to resume from 11 November 2020 at Pitampura, Delhi Haat, with the theme "Vocal for Local" after almost 7 months due to Corona's challenges. The products of "soil, metal and machia (wood-jute goods)" will be the major attraction.
Union Minister for Minority Affairs Shri Mukhtar Abbas Naqvi told here today that " Hunar Haat " , to be held from 11 to 22 November 2020 at Dilli Haat , Pitampura, amazing toys and other attractive products made from clay , potter art from Kizadugari , Metal made various products and corner of the country – wooden corner , jute , cane – will be available for rare handmade products exhibition and sale made from bamboo.
Mr. Naqvi said that there has been a very old and ancestral tradition of indigenous production in every region of the country , it was disappearing.   The Prime Minister Shri Narendra Modi's call to promote indigenous products has revived India's indigenous industry.
Mr. Naqvi said the country every field , wood , brass , bamboo , glass , cloth , paper , making the soil perfect product " masters of the art " is rich. " Hunar Haat " is going to give a big platform to provide a   chance – market to this magnificent indigenous production of them.   The artisans – craftsmen are also being helped through various institutions for attractive packaging of indigenous products .   This leads to " self-sufficient India "The campaign is getting stronger.
Mr. Naqvi said that more than 100 stalls have been set up at the " Hunar Haat " being organized in Pitampura .   This " talent hot " toys made of clay and metal in various states , including flowers of Assam ; Pochampally Ikkat of Andhra Pradesh ; Madhubani Paintings of Bihar ; Calligraphy painting of Delhi ; Hand block print from Goa ; Azrakh from Gujarat ; J – Pashmina shawls from Kashmir ; Products manufactured from Tusar silk and cane – bamboo from Jharkhand ;Wooden toys from Karnataka ; Madhya Pradesh Herbal Products , Bagprint , Batik ; Bamboo products from Maharashtra ; Handmade toys from Manipur ; Wooden and glass toys from Uttar Pradesh ; Iron-made toys etc. will be the center of attraction for visitors.   Also here people coming to Bihar , Maharashtra , Uttar Pradesh , Madhya Pradesh , Jammu – Kashmir , Delhi , Delicious Haryana etc. can also enjoy traditional cuisine.
Mr. Naqvi said that in the last five years, rare handmade indigenous items of " Hunar Haat " providing employment – employment opportunities to more than 5 lakh Indian artisans , craftsmen have become quite popular among the people.   Country far – flung artisans areas ,   artisans , craftsmen ,   chance masters the skills – to give the market " talent hot " indigenous handmade products " authentic brand " has become.
So far, more than two dozen " Hunar Haat " have been organized in various parts of the country by the Union Ministry of Minority Affairs , in which lakhs of artisans , artisans , artisans have got employment – employment opportunities.   In the coming days " Hunar Haat " will be organized in Jaipur , Chandigarh , Indore , Mumbai , Hyderabad , Lucknow , Delhi ( Indiagate ), Ranchi , Kota , Surat /Will be in Ahmedabad.
Mr. Naqvi informed that the facility to buy goods displayed in " Hunar Haat " is also being provided online.   This " Hunar Haat " will also be available on e – platform and virtual platform. Products of artisans will also be available for exhibition and sale at http://hunarhaat.org . " Hunar Haat " artisans and their indigenous handmade products are being registered in " Gem " ( Government e Market Place )   .
Shri Naqvi said that keeping in mind the challenges of Corona , social distancing and other guidelines in " Hunar Haat " will be followed with full vigor.
Shri Naqvi said that the " Hunar Haat ", which is going to be resumed , has created an atmosphere of enthusiasm and happiness among the master craftsmen ,   craftsmen of millions of indigenous heritage of the country .