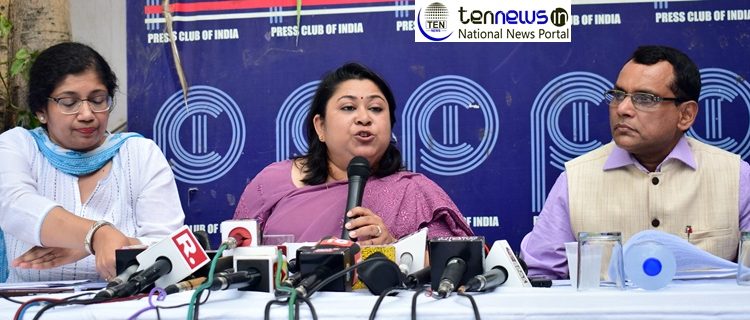 IAS Association Makes Stand Clear : Working as normal without strike but won't attend meetings where we feel threatened
Ashish Kedia (Photo/Video By Lokesh Goswami Ten News Delhi )
Probably for the first time in history of independent India, serving seniar IAS officials came forward to address a full fledged press conference in New Delhi.
The press briefing itself started with a disclaimer that they are feeling very disheartened and unhappy to make their stand public and address press with the details of their official work, just to prove that they are working.
In many sense the briefing was reminiscent of the 4 SC Judges press conference which happened few months back. 

Manish Saxena from IAS association of AGUMT cadre said, "We are not on strike and we are on not working anyone's behest. It is very unusual for nameless faceless IAS officials to come forward and do a press conference but we are being victimized hence we have to come forward to clear our stand.We are completely apolitical. Governments come and go but bureaucracy keeps working under each and everyone and we need to reiterate that we are working in our best capacity as per norms and rules".
She further added, "We work as per law and whenever we are told to do something unconstitutional or wrong we bring it to the notice of the concerned".
The association also clarified there stand on various cases which have been attributed to them for delays.
They said that in door step delivery of ration services the file which has come from LG's house had not reached food and excise department, hence officers can do nothing about it.
On issue of  disilting before arrival of Monsoon they said," We moved a file from revenue department and it went upto Chief Minister. We were given the date of 25 June for this important meeting in flood relief measures.Apart from this disilting work has already begun and we are getting regular reports of it. We completely deny the fact that disilting has not started".
Commissioner Transport Varsha Joshi said, ' I am being attacked very viciously by the handles of a political party. It is being alleged that an affidavit can not be filed because I didn't not take a call by minister. It is very unfortunate for us to bring the inside story of department in front of all but we have no other option".
Recalling the instance she said, "I was informed on 30th May that by 1st June we had to file an affidavit in High Court. We prepared it and sent it to minister on 31st. The dispatch rider waited for minister from 11:30 to 8 at his office but he wasn't available. I also texted him in watsapp but he didn't revert.It was a horrible situation where we didn't had a response to give to court. Hence I personally went to court and stood there from 10 to 2 to dispose myself in front of hon'ble court". 
"It is not true that we are not attending the meetings. All the statutory meetings, cabinet meetings, assembly question briefings are all being attended by all bureaucrats", she said.
They also talked about model of their protest and said, "We also want to make it clear that we are in fear and under pressure after the unfortunate incident that took place at midnight at CM house. Hence a 5 minute silent protest by all staff is being carried out during lunch".
On issue of not meeting legislator's they said, "It is completely incorrect to say that we are not meeting MLA'S, to counter it we can say that we keep getting calls by MLA'S and we duly receive it and try to redress it".
District Magistrate for south Delhi district said, "In Malviya Nagar fire incident I was there along with local MLA for almost whole night to monitor and control it. We have constant public hearing every morning and we do it every day without without fail hence question if not attending meetings doesn't arises".
However later answering the questions from media, officials conceded that they do not attend some meetings if they feel threatened because the chief secretary assault has created an atmosphere of distrust and in cases they have to prioritise their right to self defence by denying to attend meetings where they feel unsafe.