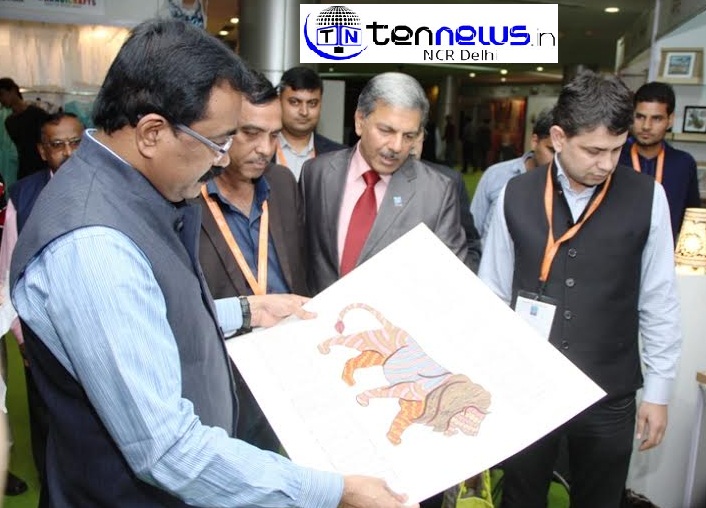 IHGF-DELHI FAIR SPRING 2016 BUYERS FOUND BUSY IN BOOKING ORDERS-Day Two
It was a second day of the fair. During last two days more than 3000 foreign buyers from across the globe registered themselves at IHGF Delhi Fair – spring 2016.  The exhibitors and the buyers were busy in interaction and finalizing the export orders for different categories of handicrafts products.  In addition, policy makers and person from industry also listed the fair for gaining knowledge in respect of innovation undertaken for the products.
The IHGF Delhi Fair is a representative of Indian traditions and culture.  The exhibitors from across the country showcasing newly designed and technologically upgraded products which is being liked by the visiting buyers. Shri Rakesh Kumar, Executive Director of EPCH informed that in order to upgrade the knowledge of entrepreneurs and exhibitors information seminars on various subjects are being conducted during all four days of the fair.  The following subjects were covered in the second day in the seminars held such as VRIKSH – Timber Legality Assessment & Verification Scheme, Clean Technology for metal wear Industries in Moradabad, Green Sustainable Products- Trends and Forecast, Our Experience and methodology of working with grassroots level artisans in basketry handicraft and Trends & Forecast for Spring Summer 2017.
A special showcase of crafts from India's North Eastern Region has been set up at a theme pavilion at IHGF Delhi Fair spring-2016.  27 artisans & entrepreneurs are center of attraction.   The display of forest based products in contemporary designs is a pleasant mix of bright as   well as subdued merchandise and is appealing to the visiting buyers.
In IHGF Delhi fair-2016, buyer Ms. Jette Carlsen from Denmark said, "India is such a huge market of handicrafts items, since last four years we are coming here, there are so many small and big companies." We have been visiting in so many countries for business like China, Vietnam and Philippines for handicraft items, but we feel warmth is in India only,    they are so friendly and working on quality to make better, and we found more improvement in glass, metal and textile items this year Ms. Carlsen further added.