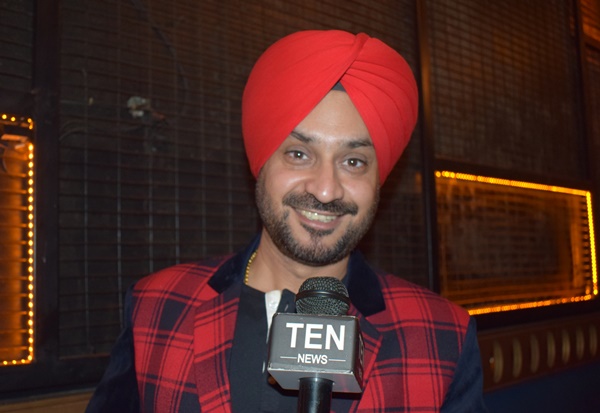 In Pakistan, After Sidhu Another Sardar from India calls for restoring peace between both countries through music!
PRERIT CHAUHAN ( PHOTO/VIDEO- JITENDER PAL) 03/01/2019 TEN NEWS
New Delhi: (04/01/2019) Recently, Cricketer, turned minister Navjot Singh Sidhu, attacked by critics for his visit to Pakistan for Imran Khan's oath ceremony and a controversial hug shared with the Pakistani army chief.
Right after Former Indian cricket star Navjot Singh Sidhu, another star Sardar took a step forward to spread peace beyond the borders through his music. A Punjabi Pop artist Varinder Singh aka Vizz, in collaboration with a well-known Pakistani artist & singer Megha Jee made & performed his latest track "Border Paar" at the Pakistan Wagah Border. And the song has already created a buzz in Pakistani Media.
On Friday, Varinder Vizz launched his single "Border Paar" at The Luggage Room, Connaught Place in Delhi. While Interacting with Delhi media he shared his experiences and views while working with the neighbor country.
"I'm really glad to shoot on the other side of Wagah Border. The welcome i got from the people of Pakistan is memorable. The song has already created a huge buzz in Pakistani media," Vizz said.
He further said, "working with singer Megha Jee was also memorable. I got to see the hospitality by the people of Pakistan. When singers from our neighbor country comes to India they are welcomed with the open arms in India. But it rarely happens when a singer from. India goes in Pakistan and makes a mark."
Varinder Vizz (V) is a renowned, versatile Punjabi Pop artist and Music Composer, who has performed over 500+ stage shows across the globe over the last two decades. He is the first Punjabi Pop Artist to debut in Bollywood with a Hollywood Artist. Judi Shekoni from the Twilight Saga – Breaking Down Part 2 Fame, performed with him in the item song "Peg Patiala" from the movie "Club Dancer".
He performed in 2006 for President A.P.J Abdul Kalam at the Presidents House for which he was given an award