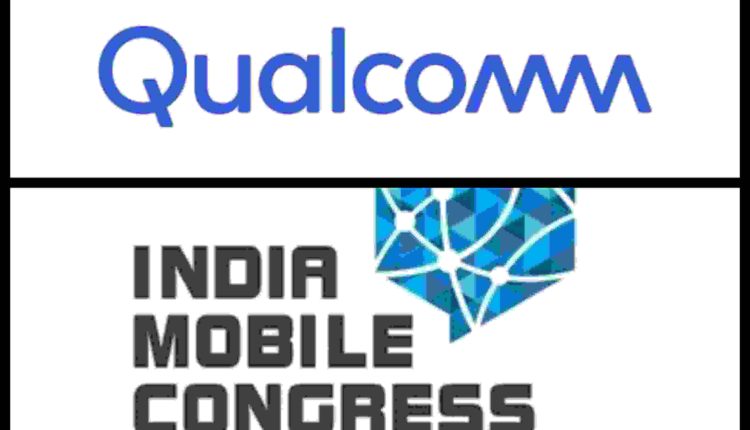 India's 5G dream: Qualcomm teams up with India Mobile Congress 2018
Ten News
New Delhi: India Mobile Congress announced that Qualcomm Technologies, Inc., a subsidiary of Qualcomm Incorporated, is now a Technology Partner with India Mobile Congress 2018. Qualcomm Technologies is currently working with OEMs, operators, infrastructure vendors and standards bodies across the world on 5G technologies, and its participation at IMC 2018 demonstrates Qualcomm's commitment in making 5G a commercial reality in India.
Qualcomm's breakthrough technologies will power commercial 5G smartphones and devices as early as the first half of 2019. The advent of 5G connectivity in India, expected in the second half of 2019, will help expand the mobile ecosystem with new services and devices, connect new industries, and empower new user experiences.
Qualcomm has been inventing new technologies that redefine the boundaries of connectivity for decades. Today it is focused on playing a key role in driving India's wireless revolution by making mobile communications widely accessible and affordable. Indian start-ups incubated by Qualcomm Incorporated will also be a part of the IMC 2018 Startup Pavilion, which is expected to strongly focus on mobile and IoT technologies.
"5G will have a profound impact on the economic, technological, and social landscapes of countries around the world, including India," said Alex Rogers, Executive Vice President, Qualcomm Incorporated and President of Qualcomm Technology Licensing (QTL). "As the innovation engine for the mobile industry, Qualcomm is at the forefront of 5G development, and our breakthrough technologies will play a key role in creating and implementing the 5G future. We are excited about collaborating with leading operators, industry stakeholders and the government to accelerate the path to 5G in India, and we look forward to participating in India Mobile Congress 2018 as a platform that brings the entire India telecom ecosystem together."
The second edition of India Mobile Congress will focus on the theme 'New Digital Horizons: Connect, Create, Innovate'. The three-day event, hosted by the Department of Telecommunications and the Cellular Operators Association of India (COAI), is an excellent platform for policy makers, industry and regulators to engage in meaningful deliberations to drive the future direction of this important sector.
Rajan S Mathews, Director General, COAI said, "India Mobile Congress is the marquee event of the country. Like last year, we are sure that this year's deliberations will inform global policy and best practices. Globally, all stakeholders are looking forward to this event, for launches and releases of new technologies. Officials and senior decision makers from both the Government as well as the industry are going to be present and tech companies will be displaying the best that this ecosystem has to offer."
The technology mega event will be held from October 25th to 27th, 2018 at Aerocity, New Delhi, and will bring together global professionals from across the mobile ecosystem, encompassing 5G, Internet of Things (IoT), Artificial Intelligence (AI), Smart Cities, start-ups in the technology space, and allied industry sectors. Leaders from Qualcomm Incorporated and its subsidiaries will be panellists at the event, including Mr. Durga Malladi, SVP, Engineering & GM, 4G/5G; Mr. Alejandro Holcman, SVP, Engineering; Mr. Jim Cathey, SVP and President, APAC & India; Mr. Rajen Vagadia, Country Manager, India and SAARC; Mr. Parag Kar, Vice President, Government Affairs, India and South Asia; and Mr. Ajit Rao, Sr. Director, Engineering.
Qualcomm is a trademark of Qualcomm Incorporated, registered in the United States and other countries.