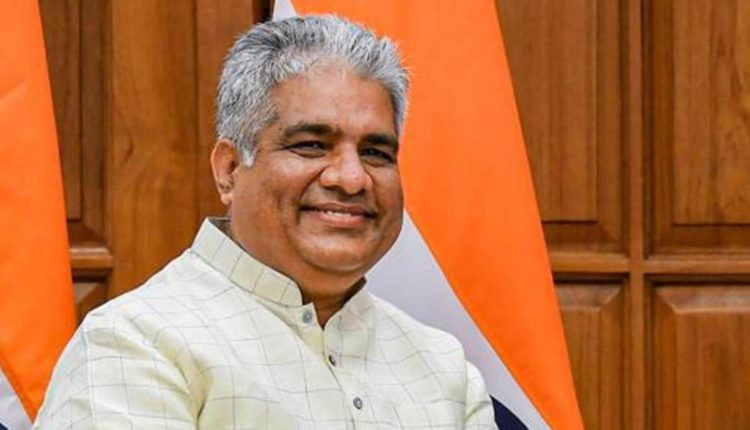 India & Europe can jointly develop affordable sustainable technologies across sectors: Union Minister, Bhupender Yadav
Ten News Network
NEW DELHI, 15 September 2021: Bhupender Yadav, Minister for Environment, Forest & Climate Change & Labour & Employment, Government of India said, "Private sector plays a pivotal role in creating low carbon sustainable economies. Private sector companies should be encouraged to develop voluntary roadmap for the transition towards low carbon pathways."
LEADS is curated as a strategic platform for global leaders from Asia, Europe, Africa, CIS, Americas & the Pacific, to deliberate on the tenets of Leadership, economic Excellence and Adaptability to change and to build on pillars of Diversity and Sustainability.
Speaking on sustainable technologies, Yadav stated, "The biggest takeaway for all today is to collaborate towards jointly developing sustainable technologies across different sectors at an affordable cost.
The presence of highly skilled workforce in India and a well-established research and development infrastructure from Europe could be well harnessed productively for this purpose."
He further highlighted India's initiative in Solar energy stating, "India launched the National Solar Mission to establish itself as a global leader in solar energy framing policies with the aim to speedy diffuse solar ventures and technologies across country.  India has also undertaken various initiatives both nationally and globally for promoting renewable energy."
In the Hydrogen energy sector, he made a special mention on India's initiative-Hydrogen Energy Mission 2021-22 for generation of hydrogen green power sources.
Speaking on the Indo-Europe relations he said, "India and Europe remain key economic partners who are all set to scale up their cooperation in the years to come. India has bilateral engagements with Germany, UK and Denmark in the energy sector in the European region. As a result of these engagements, managing significant achievements can be made in the area of sustainable and green technologies."
As a way ahead in future of partnerships, he suggested that there are a lot of emerging sustainable technologies that can significantly contribute to India-Europe partnerships such as battery storage, green hydrogen, offshore wind, energy installation or commissioning solar thermal waste energy, bioenergy, wind energy and hydrogen energy, energy storage, etc.
To enhance stronger relations between the two regions, Yadav stated, "The issue of sustainable development, poverty eradication and climate justice which are important pillars of Paris Agreement and UNFCCC to strengthen Indo-Europe collaborations on sustainable technologies."
Sandip Somany, Past President, FICCI and Vice Chairman, Managing Director, Somany Impresa Group said, "Technology is changing fast, and in future will radically transform the sector beyond recognition."
Addressing the session on future of sustainable technologies in India-Europe Partnerships, Elisabeth Staudinger, President, Asia Pacific Siemens Healthineers Germany said, "We believe healthcare will become a part of country's critical infrastructure. Healthcare expenditure will move from an expense to becoming an investment."
"There is no innovation at Siemens Healthineers that would not have contributions from India. We are increasingly engaging with our team in India and global teams," he added.
Dr Anish Shah, Managing Director and CEO, Mahindra & Mahindra, India said, "Protecting environment is not a choice but a necessity and the right thing to do. Technology of carbon capturing is vital to achieve the target of net zero."
Peter Betzel, CEO & CSO, IKEA, said, "India will be a good country to invest in renewable energy. Our last mile connectivity of delivery using electric vehicles is a sector of partnership we are looking at with India as future for partnerships."
Shreerang Talekar, Head, Strategy and Go-To-Market Initiatives, Tata Consultancy Services, Europe said, "In the future of India-Europe partnerships, sustainable product design and digital technologies will continue to drive positive change. We at TCS, are committed to cut our global emissions by 50% by 2025 and net zero by 2030."
Richard Heald, OBE, Group Chair, UK India Business Council said, "Recent collaborations have resulted in game changing events, especially in vaccine development. Towards future partnerships, carbon capture and blue hydrogen are key sectors to collaborate with India."
Dr James Gifford, Head of Sustainable & Impact Advisory and Thought Leadership, Credit Suisse said, "Key drivers to reduction in cost of sustainable technologies will play a crucial role in future partnerships. Some of the key drivers include sustainable innovation and scaling."
KEY TAKEWAYS
Healthcare will become a part of country's critical infrastructure. Healthcare expenditure will move from an expense to becoming an investment.

Deepening relations especially in new, cutting-edge technologies and innovations to make our businesses environmentally compatible in the times to come is key.

Sustainability will propel future growth. Environment management, hydrogen based -tech, skill development, sustainable packaging and transport some of the key areas for future partnerships.