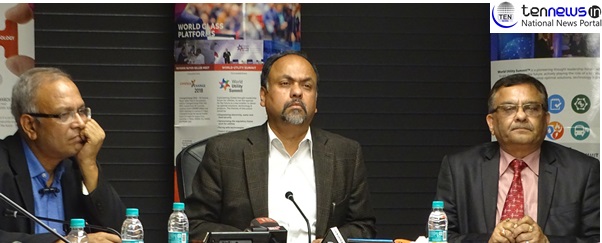 India Expo Mart Greater Noida to host World's Largest Electric Fair ELECRAMA 2018
23/2/2018            
Greater Noida: Aimed to discuss future of global energy, reduce of carbon emission from power sector, future of nuclear energy, Indian Electric and Electronics Manufacturers' Association (AEEEMA) is going to hold world's biggest and India's largest electric fair 'ELECRAMA 2018' from March 10 to 14 at Indian Expo Mart.
Vice president of India, Venkaiah Naidu will inaugurate the 13 the edition of ELECRAMA 2018. First time such event is going to happen in Uttar Pradesh.
ELECRAMA 2018 will be a platform where the world of electricity will meet the future. The three main aspect of this mega event are technology, demand forecast and policy discussion. The exclusive pavilion will be created that will feature the future of technology featuring state-of-the-art showcase of products and solutions.
More than 1100 exhibitors showcasing their products and services and visitors from more than 100 countries will be participating in it. The organisers anticipated are more than 2, 50,000 footfalls in the event.
The five day event will have various pavilions of interest. There will be a power pavilion, railway pavilion and E-Tech Next to showcase the technology of tomorrow. This time's ELECRAMA focuses on the paradigm shift from the earlier T&D in Electricity space to the focus on Electric Vehicles, Internet of Things (IOT), Storage Solutions and Renewable Energy.
While addressing the media, President of the IEEMA Shreegopal Kabra said, "ELECRAMA 2018 is all set to showcase integrated solutions to complex energy problems, by adopting a holistic and systems-based approach."
He further said, "Today the environment in which our businesses operate is changing very fast, but the Indian Entrepreneur is known for his agility and ability to adapt to the changing environment. We have witnessed change in the taxation regime and demonetization recently. Our Association took up the cause of appropriate tax rates where ever the anomalies existed and successfully steered the path to its logical conclusion. Our association will continue to respond to such challenges as and when they arise."