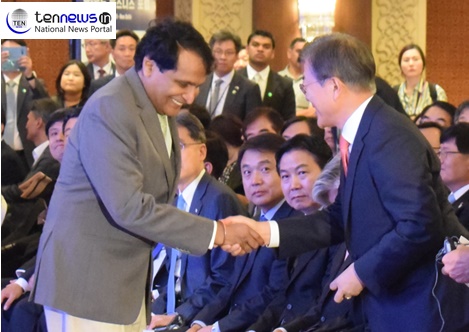 New Delhi: Speaking at India-Korea Business Forum, South Korean President Moon Jae-in said that both India Korea have a huge potential of investment and it is the right time for investors of the both the countries to invest.
"India is a land of Buddhism and Hinduism and our relationship are of thousands year old. Today, India has market and Korea has technologies. Today is a historic day for the both the countries, I and India's Prime Minister Narendra Modi going to inaugurate World's largest mobile manufacturing factory at Noida. Both the countries have a huge potential to grow together," said South Korean President Moon Jae-in.
He further said, "India is like a second home for Korean, even my daughter work as a Yoga trainer in India."
To boost economical exchange between India-Korea, India is hosting India-Korea Business Form in New Delhi and also signed several business Memorandum of Understanding (MoU).
Later, South Korean president and Union Commerce and Industry minister Suresh Prabhu launched 'India-Republic of Korea: A New Era of Relationship' report compiled by FICCI.
Speaking in the event, Union Minister Suresh Prabhu said that Business requires peace and I appreciate Korea for their steps taking to establish peach in the world.
Both countries have huge opportunity to business especially in port industry. I would like to draw the attention of Korean investors towards opportunity in port and marine industry."
He further said, "We have already created South Korean plus to business with the Korea in our ministry but we are also thinking of creating a SEZ which can only house Korean companies."
Talking about the business ties, Union Minister said that the way both India-Korea are moving ahead, in next 10-15 years there will be a 10 trillion dollar economy. "We want Korean money but not without Korean, it is like their second home."