Week long induction ceremony begins at GL Bajaj Institute of Management Research, Industry experts deliver talk
Saurabh Kumar / Baidyanath Halder
Carrying forth the legacy of academic excellence, GL Bajaj Institute of Management and Research, Greater Noida is organizing the week long Induction Program on the theme of "Corporate Expectations and Insights for Aspiring Managers" from July 09,2018 to July 13, 2018 for the newly enrolled students of PGDM Batch 2018-2020. Around 240 students have enrolled this year for the course .
The glittering ceremony commenced with chanting of auspicious shlokas of Saraswati Vandana in the presence of the Chief Guests Mr. Arvind Mehrotra, President – Infrastructure Management Solutions, NIIT along with Mr. Pankaj Agarwal, Vice Chairman, GL Bajaj Educational Institutions and Dr. Urvashi Makkar, Director General, GLBIMR.
The Corporate Knowledge Sharing Sessions began with deliberations from Mr. Mohan Shukla, Chief External Affairs, Bharti Enterprises Ltd, Mr. Ram Jalan ,Chief Marketing Officer, Wave Group, Mr. Avijit Ganguly, CEO, Fitbit
Mr. Pankaj Agarwal welcomed the students to the GL Bajaj family and conveyed his best wishes to PGDM Batch 2018-20. Mr. Agarwal assured students that by putting their continuous hard work during the 2 years of PGDM Program, they can achieve excellent placements, taking forward the legacy of the previous batches, including the recently graduated PGDM Batch 2016-18.
Dr. Makkar welcomed the new batch with warmth and stated that at GLBIMR impetus is not only on providing Management Degrees, but imparting value based Management Education for holistic development of students which has resulted in excellent placements. Further she asked students to visualize themselves what they want to be and in these you have to through away what is not that.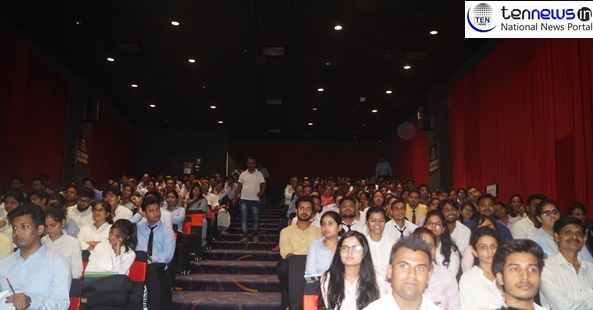 Ram Jalan, Chief Marketing Officer of Wave Group while interacting with students said that any managements course is all about three things Ms Word, Ms PowerPoint and Ms Excel. He emphasized over learning as now a days the quantum to data get generated in one week is equal to the amount of data a person absorbs in 18th centaury in his whole life span.