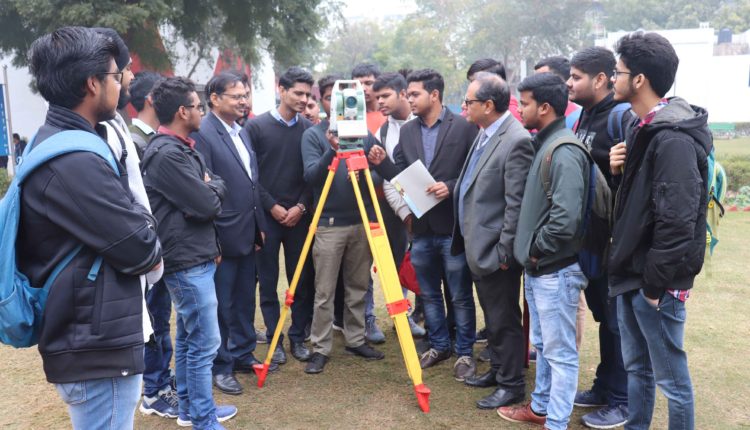 J.C. Bose University signs MoU for job oriented training
Sanjay Chaturvedi
Faridabad, 16 January – With a view to provide industry specific and job oriented technical skills to students in the field of Survey, J.C. Bose University of Science and Technology, Faridabad (earlier known as YMCA University) today signed an MoU with Delhi based Janak Positioning and Surveying Systems Private Limited (JPSSPL), a leading service provider company in the field of surveying and mapping instruments. The MoU was signed by Chairperson, Civil Engineering Department Prof. M.L. Aggarwal J.C. Bose University and Mr. Akash Kumar Mishra, Manager JPSSPL. Present on the occasion were  Vice Chancellor J.C. Bose University Prof. Dinesh Kumar, Registrar Dr. S.K Garg, Director Industrial Relations and  Dr. Rashmi Popli.
Under the agreement, JPSSPL would provide free service to the Surveying Systems and GIS equipments in the University. The company would arrange training and industrial tour for students as per field job requirement. The company has also assured in the MoU that it would also offer internship and placement opportunities to students.
Vice Chancellor, in his address,  expressed pleasure over the industrial tie-up to provide industry specific technical skills to the students of Civil Engineering and to enhance their employability. He said that the University is promoting such industry-academia partnership to fill the skill gap required for employment by providing them with a holistic and job-centric learning environment. He said that this practice will also address the need of the industry to have skilled people in spite of being a fresher.
Officials from JPSSPL also imparted training to the students for conducting survey on  the latest equipments during the ongoing TEQIP Twinning Workshop on Surveying and GIS.