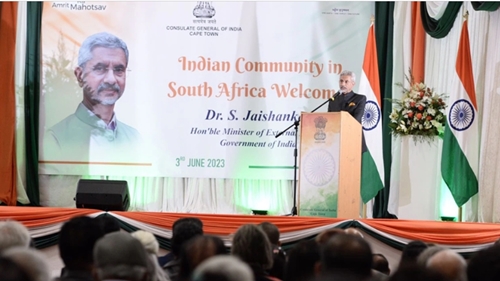 New Delhi (India), 4th June 2023: External Affairs Minister S Jaishankar finished a three-day visit to South Africa for a BRICS meeting, saying India is no longer "lumbering around at a relatively slow pace."
He also spoke about the special relationship between India and South Africa, which would mark 30 years of fresh diplomatic ties, at a banquet given by the local diaspora and expatriate community in Cape Town in his honour Saturday evening.
The minister was in town alongside his counterparts from Brazil, Russia, and China for the BRICS bloc summit, which South Africa was hosting.
Jaishankar said, "This is no longer the India that was lumbering around at a relatively slow pace. When it comes to digital, I can assert with a great deal of confidence, that I see practices (and) efficiencies in India which I don't see even if I go to Europe and North America."
Highlighting the PM Modi government's achievements in its nine years in office through policy reforms and measures in numerous areas to increase the Indian people's self-reliance, Jaishankar stated that this was not a protectionist attempt.
He said, "A self-reliant India is not a protectionist India that is closing itself to the world. It is an India that is actually making more in India but making more for the world and making more with the world. We are today actively trying to forge partnerships. One of the indices of success has been the growing amount of foreign direct investments we have attracted."
Commenting on the future of the India-South Africa partnership beyond the 30th anniversary, Jaishankar said India envisioned a world of more mobility and knowledge exchange.