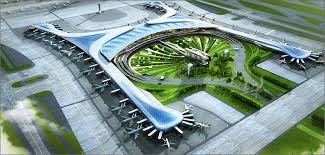 Jewar to get wings soon, Airport Bhumi poojan likely in August
Ten News Network
Greater Noida will soon become the witness the commencement of one of its biggest dreams turning into a reality. The much anticipated and publicized, Jewar Airport is finally expected to start taking shape with a high-profile ground breaking ceremony in August.
Country's Prime Minister Narendra Modi, who was last in the city during 2019 election campaigns, will once again pay a visit here to lay the foundation of the Greenfield airport at Jewar. UP Chief Minister Yogi Adityanath will also be present during the ceremony.
"Foundation stone laying of the proposed fourth largest airport in the world will be done in August. Search for a good location for this event is on. Chief Minister Yogi Adityanath and Prime Minister Narendra Modi will be doing the bhoomi pujan ceremony," Jewar MLA Dhirendra Singh told India Today.
The UP government has allocated 5,845 hectares of land for the upcoming international airport project and once constructed, it will be the fourth largest airport in the world.