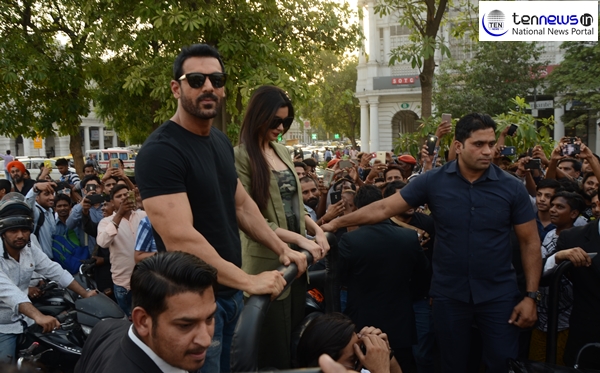 John Abraham & Diana Penty lead Parmanu Pride Parade at Connaught Place in New Delhi!
Prerit Chauhan (Photo/Video: Saurabh Shrivasta)
New Delhi: Parmanu- The Story of Pokhran is based on a true story that made India Proud- the series of Nuclear Test Explosions that happened in Pokhran 20 years ago (in 1998) turning India into a Super Power. A historic moment that every Indian is so proud of, these tests were a result of the joint efforts of members of the Indian army, our scientist community, Intelligence agencies and bureaucrats, who although ordinary people, accomplished truly extraordinary feats in the face of adversity.
As a celebration of this achievement, John Abraham and Diana Penty lead the #ParmanuPrideParade today in Connaught Place, New Delhi. The objective of this activity was to get everyone, especially the youth, to come out on the streets to celebrate our achievements as a nation and feel the pride of being an Indian.
As opposed to the notion of people coming on streets to protest or appeal , for once, the idea was to be proud of our nation; to salute and acknowledge the contributions and the joint efforts of everyone who came together to make India, a Super Power .
Earlier, John Abraham took to twitter to call upon everyone to be a part of this #ParmanuPrideParade.
Featuring John Abraham, Diana Penty and Boman Irani. Parmanu is slated to be released on 25 May 2018. Movie was earlier slated to release on 8 December 2017, but the makers pushed the date to avoid clashing with Padmaavat.