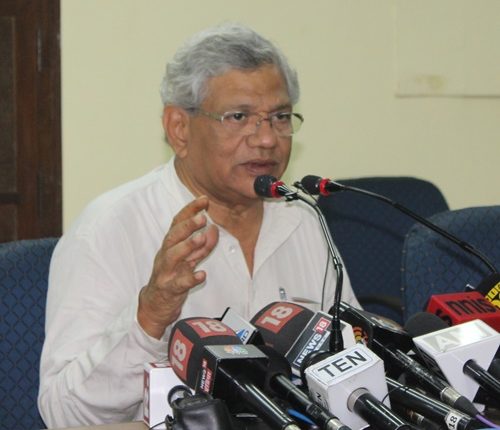 New Delhi: Veteran CPI (M) leader Sitaram Yechury on Tuesday said that what BJP did in Karnataka is a clear cut attempt to cripple the democracy and an attempt to cobble a majority though horse-treading, however, failed. 
He made an all out attack on Narendra Modi led-NDA government and West Bengal Chief Minister Mamata Banerjee for recent violence in West Bengal panchayat election.
He attacked government on slew of issues including Karnataka election, skyrocketing price of petroleum products, recent violence in West Bengal, ceasefire issue of J&K, attack on educational institution and National Register of Citizen in Assam.
While speaking on the hike of petroleum products he said, "The price of petrol and diesel in on high since independence. The government is not ready to trim down taxes from petroleum products and giving excuse of international market."
Later, speaking on the West Bengal violence during panchayat election, he said, "More than 40 deaths have been reported in the state during the election. On one hand, Mamata Banerjee has been criticizing BJP for crippling constitution in Karnataka, on other hand she has been doing same in Bengal."
"Huge irregularities have been reported. The winning certificates were given to those who lost election", he added. 
Referring to the recent news of teaching Islamic terrorism subject in JNU he said that BJP is out to attack higher educational institutes. They have been trying to introduce RSS ideology in the higher education. "Instead of emphasizing on technology, BJP government is mulling mythology in higher education."  
Making sharp attack on Assam's National Register of Citizen act, he said, "Under the leadership of BJP government, the citizenship is being given on the basis of religion, which awful and huge irregularities have been reported in it. So, we demand from Union government to strike down this act and chalk out other ways to do it."