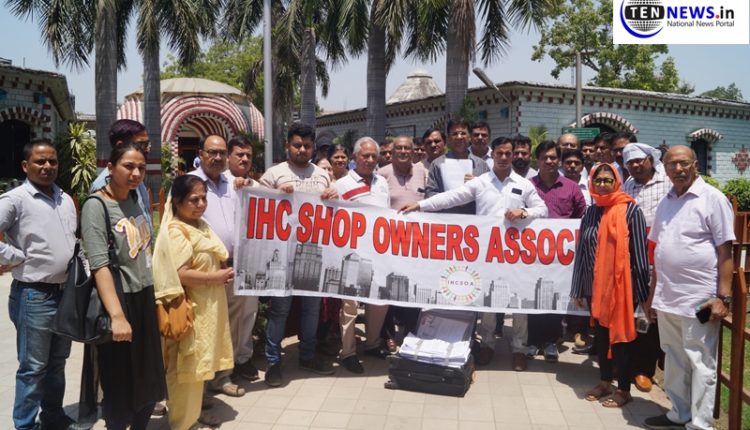 Judges assures IHC Shop Owners Association to raise their issue further after today's hearing
Saurabh Kumar / Baidyanath Halder
Greater Noida (29/05/19) : More than hundred of affected members of IHC SHOPS OWNERS ASSOCIATION (IHCSOA) went to RERA office today to attend the RERA court hearing on the complaint filed by the Association's General Secretary Shikhar Kapoor against Pramod Goel of Indirapuram Habitat Centre, Ghaziabad.
This Association is of the buyers/investors of Indirapuram Habitat Centre, a mall in Indirapuram, Ghaziabad, whose promoter is in jail since April '19 and the entire project is left abandoned. The office bearers of the Association Dinesh Sud (President), NK Singhal (Vice President) and Shikhar Kapoor (General Secretary) were also present at RERA court today.
There were 6 cases listed today against Indrapuram Habitat Centre Pvt Ltd. By individual investors, which were pleaded together by the IHCSOA Association, they informed the Hon. Judge of Bench 3 of RERA, Greater Noida court that the online software of UP RERA does not accept the complaints on behalf of the Associations.
The Association further requested that they have already submitted a hardcopy of their complaint on 18th April 2019 in RERA, Greater Noida office which should be accepted as one complaint on behalf of all the 400 members of IHC Shop Owners Association. Shikhar Kapoor informed that they have filed this complaint on the guidelines Suggested by Chairman, UP RERA.
The members pleaded that if every member of the Association is forced to file a separate complaint in RERA it would lead to a mountain of complaints and would be simply waste of time, money and energy of not only the Govt agency but also individual complainants
The judge heard the entire case of IHC Shop Owners Association patiently and said that he was fully convinced and would to take up the matter to Chairman & Members RERA.