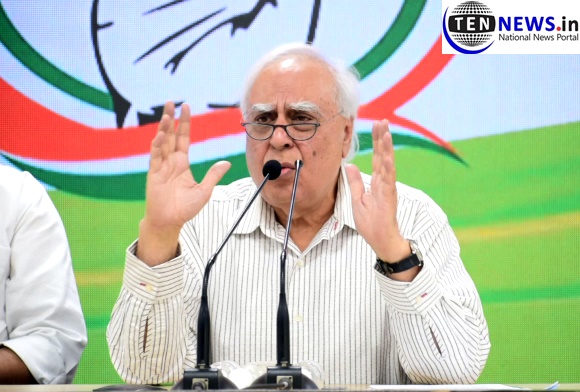 Kapil Sibal attacks government in reference to economic slowdown signals by International Agencies
Saurabh Kumar (Photo-Video) Lokesh Goswami Tennews New Delhi :
Delhi : Senior Congress leader Kapil Sibal on Wednesday attacked Prime Minister Narendra Modi while presenting the report of major world agencies indicating the slow down in the economy.
He presented the data on the last day of campaign for Haryana and Maharashtra elections. Presenting the figures he said "The International Monetary Fund on 15 October, 2019 said, the earlier GDP projection of 7% is at 6.1% today. Our economy is in crisis. World Bank on 13 October 2019 said 6% growth will be recorded as opposed to 6.8% announced earlier.
India has slipped to 102 position in the Global Hunger Index 2019 of 117 countries. In 2018, India was ranked 103 out of 119 countries behind its neighbours Nepal, Pakistan and Bangladesh.
"Piyush Goyal hi says there is no slowdown and that Nobel laureate economist Abhijit Banerjee is 'left-leaning'. Are the IMF, World Bank and other international agencies left leaning too?" Sibal questioned the government.
Talking about the Arctic 370 issue, Kapil Sibal alleged government of presenting fake narrative before the country on J&K as the poverty rate in Jammu & Kashmir is 10.35% as against 17.35% in Maharashtra, 29.34% in UP, 11.16% in Haryana, 16.63% in Gujarat. Is this difference due to Article 370 said Kapil Sibal while addressing media .