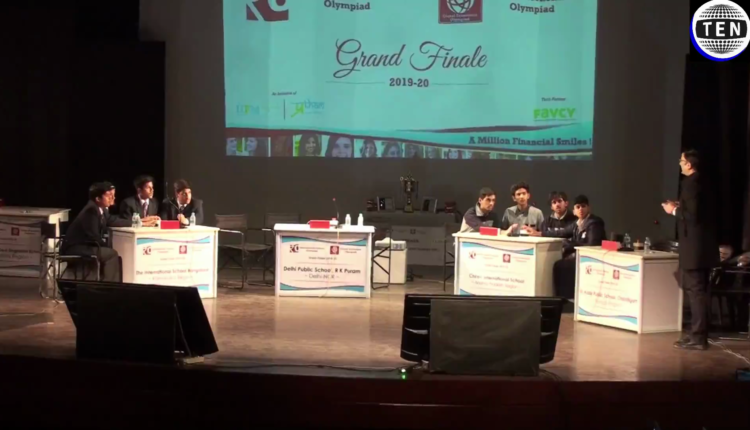 New Delhi (25/01/2020): Students of International School of Bangalore from Karnataka lifted the winning trophy and the coveted winning scholarship of 1 Lakh at the Grand Finale of the 7th International Financial Olympiads (IFO) held at 'Little Theatre Group Auditorium' in New Delhi today.
Chirec International School from Andhra Pradesh became the first runner up, bagging a scholarship of 40,000 and Delhi Public School, RK Puram, Delhi were held at third position got scholarship of 20,000.
The finale was conducted in an on-stage quiz form by quiz master Pranav Chaturvedi. Six teams of four members each had qualified for the finals after winning the first two rounds held at National level earlier.
International Finance Olympiad (IFO) is an initiative of International Institute of Financial Markets (IIFM) which has been conducted annually form the past 7 years with an aim to make young learners (Grade 8th to 12th) familiar with the need and art of managing money. The four-membered teams that qualified for the Grand Finale were – Delhi Public School, RK Puram, Delhi, Delhi Public School, Haridwar, The International School of Bangalore, Chirec International School , Hyderabad, Smt. Sulochana Devi Singhania School, Thane and St. Kabir Public School, Chandigarh.
Speaking to Ten News, Ankit Kapoor, Director, Pratham Institute, said, "While the finance knowledge for school students is at very nascent stage & hence efforts are being made across the globe to structure it within school curriculum. After excelling in International Finance Olympiad, we have extended our branch by introduction of Global Economics Olympiad. In Today's modern competitive world, Olympiads help to identify a child's capability and their real potential and also figure out the areas where student lacking proficiency so that a proper orientation can be given to improve."
Students registering at National and International level competition are at an added advantage as they get an Internationally recognized certification at every level and a chance to compete for scholarship prizes and become a 'Financial Literate' at a young age.
"IFO has catered to more than 48,000 students in 162 cities and 5 countries to promote financial literacy for students at school levels, that aims at bringing under the limelight of importance pertaining to Economics. Apart from having association with over 1000 schools in India, the team has also expanded internationally by incorporating several schools from Dubai, Qatar, Kuwait and Sharjah and has successfully established itself in promoting the knowledge of finance among the young minds." He added