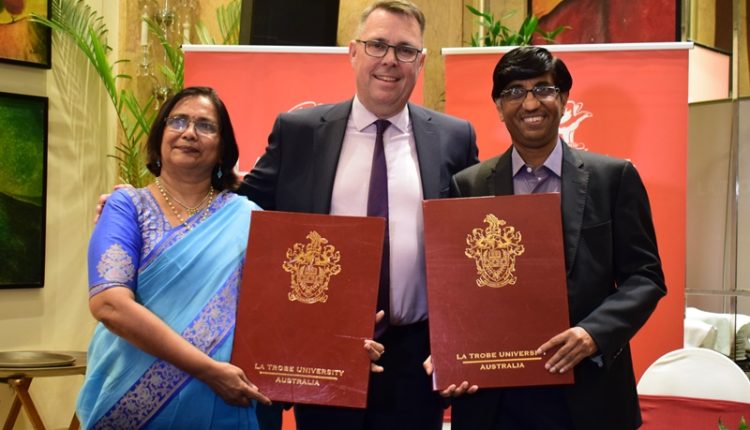 Launch of Asian Smart Cities Research and Innovation Network : La Trobe University
LOKESH GOSWAMI
New Delhi : La Trobe University is spearheading a major research initiative valued over Rs 65 crores, along with two leading universities in India, to address the growing challenges of urbanisation.
The Asian Smart Cities Research and Innovation Network (ASCRIN), developed by La Trobe along with partners – the Indian Institute of Technology Kanpur (IIT Kanpur) and the Birla Institute of Technology and Science, Pilani (BITS Pilani) – was announced today during a visit to India by La Trobe's Vice-Chancellor, Professor John Dewar.



The aim of the large-scale initiative is to build a critical mass of resources, know-how and targeted research strength from the three universities, along with close engagement with industry and local government, to deliver impact for the sustainability, liveability and efficiency of cities across Asia.
The research network will include La Trobe – IIT Kanpur Research Academy and a joint PhD and research framework with BITS Pilani, supported and guided by a network of "Industry Champions." The Industry Champions will comprise senior leaders from corporates, consulting houses, small and medium businesses and Government.
Key themes for research and industry collaboration are around infrastructure and technology; economic development; mobility and transport; health and well-being; education; urban planning; governance and engagement; security and safety; culture and heritage; and energy, water and waste.
Professor Dewar said the Asian Smart Cities Research Hub draws upon La Trobe's proven research and innovation strengths in Australia – adapting and applying them to Asian cities.
"At La Trobe we are committed to solving global issues and improving the welfare of people and communities," Professor Dewar said.