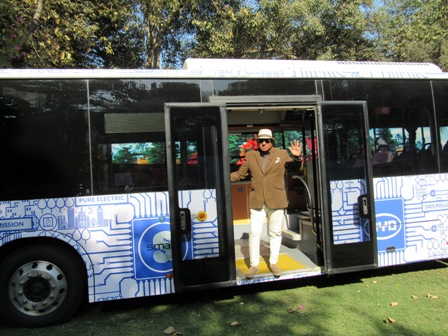 Launched Electric Bus By Smart Group, Dr. BK Modi, vision of a clean& pollution free India.

Video 1 [youtube https://www.youtube.com/watch?v=mqN3XsPgDPI&w=420&h=315]
video 2 [youtube https://www.youtube.com/watch?v=24SBgzCSZls&w=420&h=315]
New Delhi: Smart Group, promoted by Dr. BK Modi announces its entry into the Electric Vehicles industry with the launch a first of its kind electric bus in India on Saturday, February 20, 2016 at Smart Mansion, New Delhi. In line with the government's vision of a clean and pollution free India, the group is one of the first to display its commitment to implementing this vision. The hundred percent electric bus will be another ground breaking foray by Dr. BK Modi who which is known to bring in futuristic and disruptive technologies into India. Dr. BK Modi is credited with revolutionizing the office automation space with tie ups with Xerox, Olivetti; and subsequently the mobile telephony space by becoming the first company to offer mobile telephony services in India. For the electric vehicles business, the group has tied up with BYD (Build Your Dreams) – the world's leading electric vehicle manufacturer. Besides the commercial vehicles, the group also plans to enter into the luxury e-vehicles space with BYD and Daimler AG (Mercedes Benz) for luxury e-cars. Given the rising concern about pollution and public health in the Indian capital, the Smart E-Bus is a conscious attempt to make the city's public transportation zero-emission. The group has offered two electric buses to Delhi Government for free, that will play on a commercial route pre-allocated by the Delhi Transport Corporation from the last week of February. The world today is not just about development, it is also about the right kind of development. And pollution has become the number one enemy that the world is talking about. I believe that this will be a highly successful project for the Smart group because everyone who cares about the well-being of themselves and their loved ones would consume this technology and make it a part of their everyday lives," said Dr BK Modi, Founder –Chairman, Smart Group while formally launching the E-Bus. In line with the vision of Dr. BK Modi to facilitate right kind of development, the group has also planned a foray into creating a Smart Health city in Delhi and commit to cutting edge medical research, assisted living for seniors and a medical building & offices. The group has also announced plans for development of a Smart City at Modipur where the Dr BK Modi has envisioned a world-class ecosystem of manufacturing facilities, green homes, an IB School, a multiplex and other leisure activities for the residents.