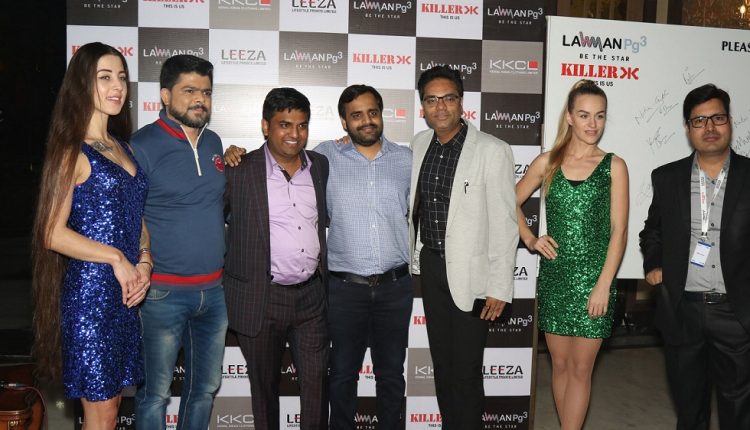 Leeza Lifestyle launches two premium brands at a glittering event
By Bipin Sharma
Leeza Lifestyle Private Limited Company (LLPL) hosted a grand event to launch two premium brands under the flagship of Kewal Kiran Clothing Ltd (KKCL) on January 19, 2018 at The Umrao, NH-8.
The two premium brands namely Lawman Pg3 Brand (Footwear category) and Killer Brand (Sports Wear category) evoked an overwhelming response from the packed house that had been invited for the momentous occasion.
In sync with the vision of Prime Minister Narendra Modi's ambitious "Make in India" project, LLPL, licensee organisation of KKCL, India's largest branded apparel manufacturer in India and owners of two premium brand namely Lawman Pg3 and Killer unveiled its 2018 collection. With this collection, LLPL and KKCL are all set to rearrange the environs of Footwear and Sports Wear category.
Today, LLPL takes pride in announcing its collaboration as a Licensee of brands Killer and Lawman PG3, as they foray into the fascinating world of active wear clothing and footwear respectively.
Killer is a bold reflection of the modern moods of the youth with the brand being an undisputed flag bearer of the Denim domain. With a three decade long existence in the industry, Killer has remained youth relevant by letting them be the bad asses with a pair of good Ass Jeans and Kickass lifestyle products.
Lawman PG3 believes that stardom is all a state of mind, and that both fame and fortune are well within everyone's reach. The brand is an inspiration to the youth brigade to hog the limelight and brace it with confidence. Lawman PG3 is for the young mindset with evolved sense of fashion. The myriad lifestyle products that the brand proudly owns are a Gateway for the aspiring youths of the society.
Speaking on the occasion, Devender Gupta, Director, Leeza Lifestyle Pvt Ltd., said, "We have created Leeza with a unique concept of Lawman Pg3 footwear brand and Killer Active wear brand. We bring a huge range of lifestyle products for the youth. We are already in the manufacturing field, and untiringly follow the "Make in India" concept of Indian Brand which also happens to be a dream project of the present day government.
Style Diva and an invitee to the event Poonam Saini remarked, "Kudos to Leeza Lifestyle Private Limited Company (LLPL) for launching two premium brands namely Lawman Pg3 Brand in the Footwear category and Killer Brand in the Sports wear category under one roof. LLPL has carved a distinctive niche for itself in the industry, with power packed sourcing, manufacturing and distribution competencies in Apparel, Footwear and accessory category. The company has had long associations with leading sportswear brands in India. The launch event showcased an eclectic design range of both the footwear and the sports wear collections."
LLPL is a licensee organisation of Kewal Kiran Clothing Limited (KKCL) which is one of India's largest branded apparel manufacturers in India with two premium brand, Lawman Pg3 & Killer under them.
Leeza is propelling Lawman PG3 brand in a complete range of footwear category and Killer brand in a Sports Wear category for PAN India and will spread the brand through distribution network, E-Commerce network, Institutional sale network etc. Leeza boasts of a vast distribution network pan India with a robust grip in the E-Commerce businesses and so forth.