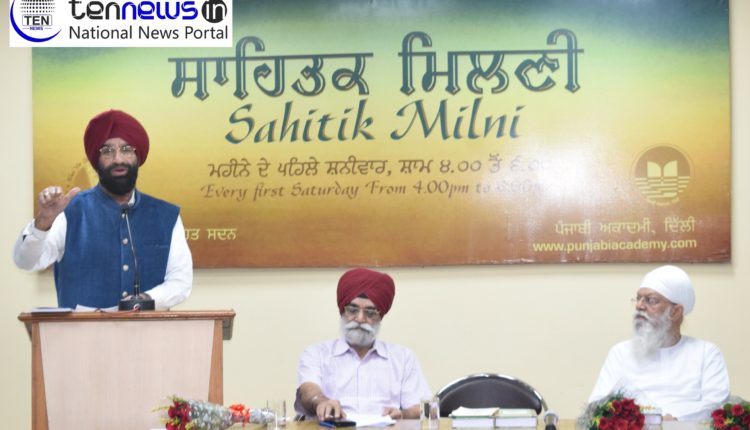 New Delhi: A literary meet was organised today by the Punjab Society of Delhi in the memory of the late Dr. Harbhajan Singh at Bhai Veer Singh Sahitya Sadan, Gole Market, New Delhi.
Harbhajan Singh (18 August 1920-21 October 2002) was a Punjabi poet, critic, cultural commentator and translator. Along with Amrita Pritam, Harbhajan is credited with revolutionising the Punjabi poetry writing style. He published 17 collections of poems, including Registan Vich Lakarhara, 19 works of literature and translated 14 pieces of literature of others including those of Aristotle, Sophocles, Rabindranath Tagore and selections from the Rig Veda.
Eminent speakers from the Punjabi society spoke about Harbhajan Singh at the occasion.
Dr. Jagbir Singh , Dr. Satinder Singh and Dr. Ravi Ravinder were present for speaking at the occasion.
Addressing the meet, Dr. Satinder Singh's speech stated that the Late Dr. Harbhajan Singh was a person with extremely good ethics and a good soul as well.
Speaking with Ten News correspondent, Dr. Satinder Singh said that,
"Harbhajan Singh was really a worshipable personality. He always did something that society found beneficial.
His work was always commendable."
When Dr. Jagbir Singh was asked about Dr. Harbhajan Singh his words were,
" Dr. Harbhajan Singh was a teacher for all other teachers. He was an idol for us. He was good at everything, whether it was poetry, educational purposes or whether it was ritualistic talks."
Dr. Ravi Ravinder praised the Late Dr. Harbhajan Singh, saying:
"Dr. Harbhajan Singh was a person who always thought for the betterment of the society. A society which don't consist of anything that can make people question about it, was the only aim of Harbhajan Singh. He was a good artist as well. He always promoted that poetry can also be said in people's local languages. His Punjabi poems always proved to be the best for the betterment of the people, the nation! "