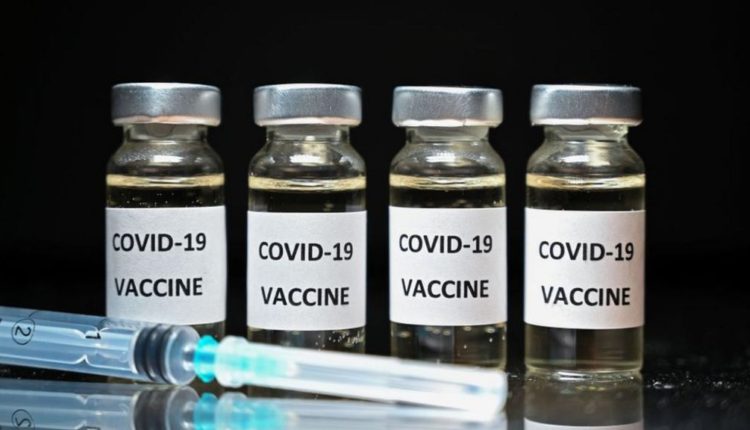 After nearly a year under fear of the current pandemic, there is a new hope from the Covid Vaccine. In India, while Covishield from Serum Institute, Pune and Co-vaxin from Bharat Biotech, Hyderabad have been permitted for administration, transporting vaccines and distributing them from factories to cold storage facilities and especially to remote locations is still a task. Since the whole world has faced the problems caused by the coronavirus meanwhile a ray of hope has been seen in the form of vaccine development. But here there are new challenges for mass vaccinations. Reaching to several places, with poor connectivity, either roads are not in good condition or narrow in size is a matter of great concern. We might need vans and light commercial vehicles that can be easily reach to rural areas without any obstacle. Not only refrigerated vehicles are required but few other things are also required such as planning the routes, ensuring appropriate temperature for the vaccine to get active, and others. 
India is all set to vaccinate its 1.3 billion populations in multiple stages; dry run including dummy injections and mock transportation of the vaccine has been done so far all over the country in the past few days. The first phase of the vaccination will administer to front line healthcare workers who are engaged in Covid−19 management. This would be followed by enforcement workers (police, army etc). The third phase will be senior citizens or people aged 50 years and above as well as people with co-morbidities like diabetes and hypertension will also be taken into consideration. 
The transportation in the urban areas is not a big challenge but the supply of the vaccines in remote areas is still in the limelight due to hurdles involved in this transportation process. Meanwhile, the government has also planned some of the major steps to transport vaccines to the remotest part of the country. And to give the two approved Covid−19 vaccines to all aspects of India, the public authority will widely utilize the vehicle airplane including the C-130J and Antonov-32 payload planes. Specific compartments have been set up by the vaccine makers and providers to keep the vaccines at the ideal temperatures during transportation of the antibody for 24 hours. The IAF (Indian Air Force) transport airplane will be utilized for flying vaccines to far off runways and progressed landing grounds in states, for example, Arunachal Pradesh and Ladakh.
Apart from the immense planning, some challenges will definitely come our way to interrupt the planning of the officials and we should be prepared enough to tackle those challenges in an appropriate way. The two vaccines affirmed by India-Oxford University and AstraZeneca's Covishield, made by neighborhood accomplice the Serum Institute of India, and Bharat Biotech's Covaxin-should be kept refrigerated consistently. 
Standard youngster immunizations are a lot more modest game and inoculating against COVID-−19 will be profoundly testing. An aggregate of 29,000 cold chain points, 240 stroll-in coolers, 70 stroll-in freezers, 45000 ice lined fridges, 41000 deep freezers, and 300 solar refrigerators are good to go. India has four super stops to take conveyance of the vaccines and transport them to state dissemination centers in temperature-controlled vans; however, the final leg will be intense
Challenges associated with cold chain technologies
Any biologic is delicate to temperature, so close temperature controls are consistently important to keep up their effectiveness. From a transportation view, that typically implies pressing and delivering the immunization in dry ice. Numerous health items are heat touchy. Their properties can be modified by temperature outings outside a characterized safeguarding range. This is especially the situation with vaccines.
The cold chain technologies will assume an essential part in the fight against the COVID−19 pandemic and the race to give an antibody around the world. Refrigeration has been emphatically requested. This is a remarkable strategic test on a worldwide scale, yet additionally a similarly exceptional refrigeration challenge. The world is rediscovering the significance of the cold chain
 The vast majority of the over 4.5 billion portions of vaccines given every year worldwide should be put away somewhere in the range of +2°C and +8°C. From the research facility to the patient, they are put away, shipped, and appropriated under temperature-controlled conditions. Descending temperature trips by and large lead to a quick and irreversible loss of the antibody's full viability: they ought to never be frozen!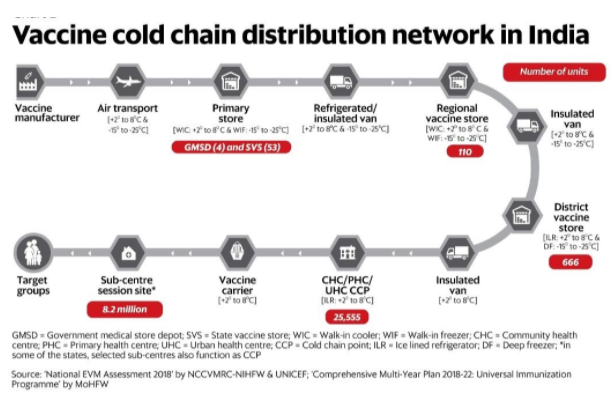 Challenges involved in maintaining the temperature in remote areas
Keeping up the extraordinary chilly, expected to guard the immunization while making a trip to far off regions or remote areas would be truly dangerous. If they are not kept at truly cool temperatures, they can basically degrade and not function admirably. The main difficulties to viable cold chains are helpless temperature control and support prompting the decreased strength of vaccines, deficient accessibility of antibodies because of inadequate cold chain limit, and an absence of the most recent cold stockpiling innovation. This is particularly troublesome during transport and capacity, as convenient coolers have restricted running occasions, and extremely distant zones don't approach cold stockpiling.
India will play a pivotal role in vaccine distribution. This inoculation drive provides global co-operation and co-ordination against Covid−19 to meet the COVID circumstances. Lack of cold chain might prove to be major obstacles for India in Covid−19 vaccine distribution and transportation. Though concerns are associated with the vaccination drive about its success a positive attitude is in the air. Sustaining the vaccination apart from all the challenges will prompt up the global appearance of India.