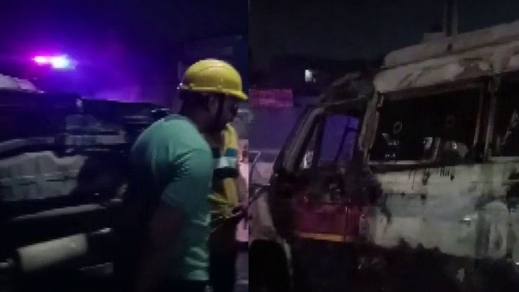 Maharashtra's Aurangabad witnesses violent clash, Police Team Attacked, Vehicles Set on Fire
Ten News Network
New Delhi (India), March 30, 2023: In a violent clash between two groups of young men in Aurangabad, Maharashtra, a police team was attacked and several of their vehicles were set on fire last evening. The incident took place in Kiradpura, which has a famous Ram temple.

The argument between the two groups had snowballed into a full-blown mob incident involving around 500–600 people. The police have formed 10 teams to arrest those who fanned the violence, and a heavy police force has been deployed in the area to prevent a communal escalation, especially because of Ram Navami and the month of Ramzan.
Police Commissioner Nikhil Gupta said, "It started after some youths clashed. A combing operation is underway to detain them. The mob incident went on for almost an hour. Around six to seven vehicles were damaged." Videos circulating on social media showed local MP Imtiyaz Jaleel, state BJP minister Atul Save, and others making efforts to ensure peace.
The burned vehicles have been removed, and no arrests have been made yet. The situation is now under control, and Chief Minister Eknath Shinde has appealed for peace. "Today is Ram Navami and it is Ramazan month too. People of all religions and communities have been celebrating their festivals together. We hope the same happens in Sambhaji Nagar. We appeal to everyone to cooperate and maintain law and order," he added.