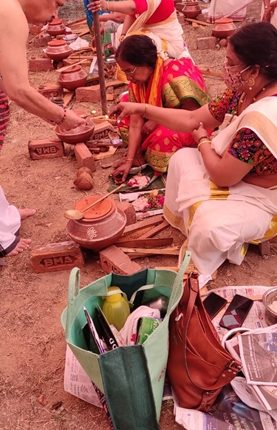 Malayalee community in Greater Noida celebrates Attukal Pongala
Greater Noida : Attukal Pongala 2021 celebrated by the Malayalee community in Greater Noida in a traditional manner on Saturday. Women cooked rice on an open earthen pot, performed the rituals and offered naivadyam to the Attukal Devi. Attukal Pongala is a famous Malayalam festival celebrated in the Attukal Temple located in the Capital of Kerala, Thiruvananthapuram.
Director of Thyagaraja Center for Music & Dance Director Ms Rajeswari Thyagarajan and a prominent member of Malayalee community in Greater Noida told that "We all the women from Malayalee community performed our annual Attukal Pongala puja at a "Ketakite " temple in Greater Noida. This year due to Covid were not able to visit Kerala , so we decided to do the puja here. Around 30 women accompanied by their husbands performed all the rituals while following with COVID-19 regulations."
https://www.youtube.com/watch?v=ki3_BdDCkao&feature=youtu.be
She also told that "The all-women congregation was declared the largest gathering of women by Guinness World Records in 2009. There were around 2.5 million women devotees who had come to Kerala's temple to celebrate the festival."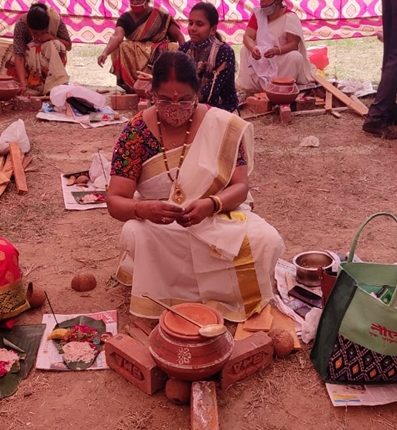 Marked in the Malayalam month of Kumbham, the festival usually falls in the month of February-March. The goddess Kannaki is the main deity of this temple. She is also known as the goddess Bhadrakali. Goddess Attukalamma which is also known as Bhadrakali or Kannaki is believed to be present here at Attukal temple during the 10 days of the festival.
Devotees give offerings to the goddess to celebrate the victory of Kannaki over king Pandya. Another story is that Attukal Devi is Bhadrakali which is born from the third eye of Lord Shiva to kill the demon king Daruka. She is also believed to be a form of Shakthi Devi who is mainly worshipped in Kerala. The 10-day festival is celebrated to worship these goddesses. Last year, Attukal Pongala was celebrated on March 9.