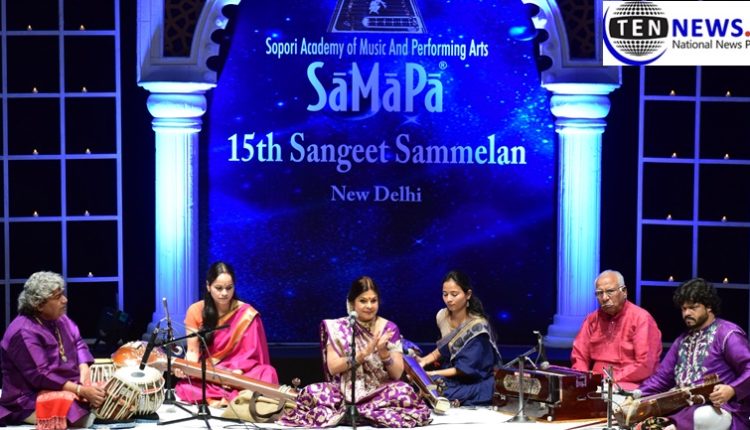 Malini Awasthi, Abhay Rustum Sopori enthralls Delhiites at 15th SaMaPa Sangeet Sammelan
Saurabh Kumar (Photo-Video) Lokesh Goswami Tennews New Delhi :
New Delhi: Malini Awasthi, Santoor Maestro & Composer Abhay Rustum Sopori and Pt. Vishambhar Nath Mishra (Pakhawaj) enthralled the audience on day 5th of 15th SaMaPa Sangeet Sammelan at Kamani Auditorium, New Delhi.
Organised by Sopori Academy of Music & Performing Arts (SaMaPa), the festival was presented in collaboration with Incredible India, Ministry of Tourism, Govt. of India and IFFCO. The festival also features the Annual Painting Exhibition by the artists of J&K presented by SaMaPa and J&K Academy of Art, Culture & Languages. During the 5 day musical extravaganza prestigious SaMaPa awards, the exclusive national level honours pertaining to Jammu & Kashmir were also presented.
This year SaMaPa Sangeet Sammelan 2019 featured some of the eminent musicians of Indian classical music including music legend Pandit Bhajan Sopori & maestro Abhay Rustum Sopori (Santoor). The 5 day festival will conclude with presentation of Swarlaya Samwad: Pt. Vijay Shanker Mishra .
The festival attracted connoisseurs of music from various parts of the country and abroad. The festival featured around 65 performers and also around 35 young children from different schools of NCR. People enjoyed a lot at the at the festival as the weather was also great.
SaMaPa is acclaimed as a Cultural Bridge of Jammu & Kashmir with the rest of the country and have created a new generation of music connoisseurs.