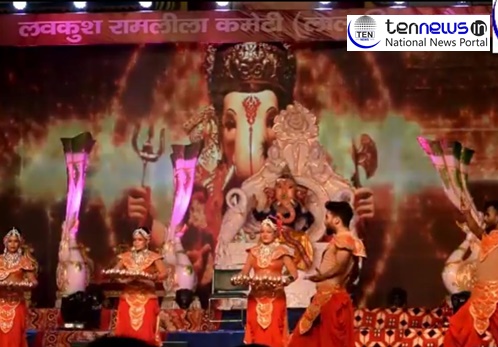 Minister Vijay Sampla kicks off 10-day Ramlila at Red Fort, New Delhi
Vishal Malhotra (Photo & Video) By Rahul Kumar Jha
New Delhi: Yesterday, Cabinet Minister Vijay Sampla inaugurated the Luv-Kush Ramlila on the very first day of Navratri at India's iconic Red Fort.
Lav Kush Ramlila Committee is one of the oldest committees in Delhi and has been organizing Ramlila at Red Fort. The Committee is being governed by the office bearers, elected out of dignitaries, prominent citizens, businessmen and other learned personalities.
Lav Kush Ramlila Committee has achieved the recognition as the favorite organization in Delhi. It has also achieved the best Ramlila Committee Award in the Central Zone, conferred by the Nav Bharat Times.
Ramlila began with Ganesh Pooja by Cabinet Minister Vijay Sampla and Member of Legislative Vijender Gupta.
Yesterday's performance included an enactment of the re-birth of Ganesha.
That happens when Lord Shiva visits his wife Parvati and Ganesha stops him as per the orders given by his mother.
Ramlila included various actors that everyone must have seen on TV every now and then.
Their performance yesterday was just a start to the most religious story of all time. Ramlila at Red fort will be performed for the next 10 days up till Dussehra.