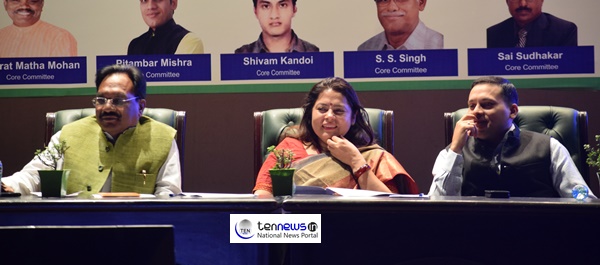 New Delhi: Modi For PM organization Since 2010, is a platform which brings every citizen of India together with their strong desire to make positive changes for the country. From a farmer to a rich person, most of the members support Narendra Modi as Prime Minister substantially.
Rohit Gangwal, Founder of the group. Who belongs from Indore, MP and operates Software and few other business based in US and India started this Organization to spread the truth and his mission is to motivate the common man by involving to a platform to show their support for Narendra Modi.
On Sunday, The Organization held National Convention at Constitution Club of India in New Delhi. The sole purpose and motto behind the event was to strengthen the volunteer base and enable a voluminous victory for PM Narendra Modi.
Speaking on the occasion, BJP Leader Meenakshi Lekhi said,
"Modi for PM signifies let's do something for the nation. If we speak about Narendra Modi inspiration behind joining politics it was only to do something for the nation. 2014 marked the historic day for India. It was this day when Narendra Modi took his pledge as the Prime Minister of India. 2014 elections were historical because for the first time a candidate was choosen by the public."
Rohit Gangwal, Founder of the group said,
"Modi for PM organizations only motto is to lets do something for the nation. People don't get Oppurtunity generally to do something for the nation other than sports personalities and Army people. Modi for PM provides platform to everyone to do something for the nation."