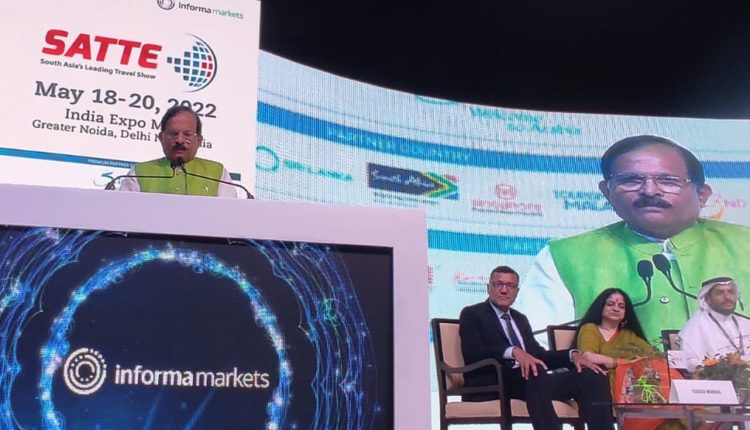 MoS Shripad Naik opens SATTE at India Expo Mart, says 'Dekho Apna Desh' to boost tourism in the country
Delhi-NCR: Informa Markets in India, India's leading B2B exhibitions organizer, is geared to host SATTE 2022, South Asia's leading travel trade exhibition, from May 18 – 20 at the India Expo Mart, Greater Noida, Delhi-NCR. The 29th edition of SATTE aims to provide a great business opportunity to stakeholders to conduct business with over 36,000 + qualified industry buyers and trade visitors from the travel, wedding planning, corporate travel, hospitality and leisure industries, as well as leading television and film production houses.
The event will beef up the interactive sessions and comprehensive genuine exchange of fruitful communication between thought leaders and stakeholders of the industry. SATTE serves as a one-stop platform for people from diverse tourism segments to have an interplay of conversations and bonding about the economic growth and opportunities.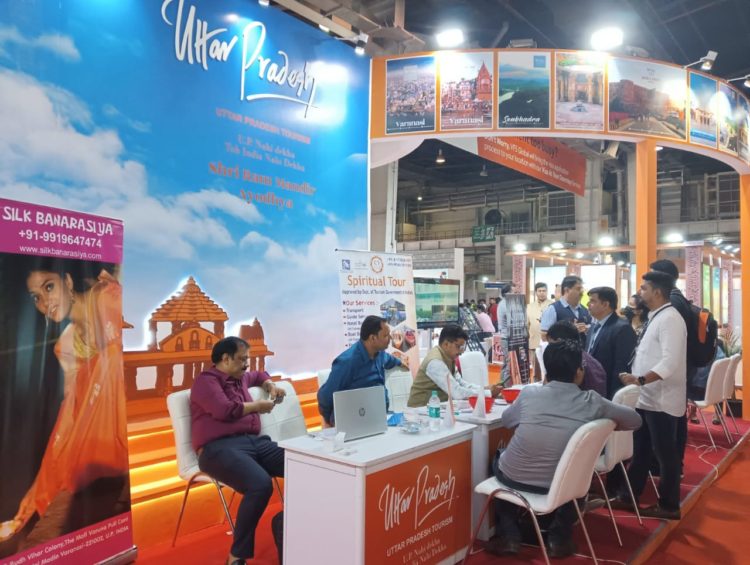 One-to-one floor interactions will also be held with 1000+ exhibitors coming from vast backgrounds such as Travel Agents, Tour Operators, National/International Tourism Boards, State Tourism Departments, Hotels & Resorts, Travel Technology Companies, Spa and Wellness Centers, Medical Tourism, Adventure Tourism among many others. The event will bring together renowned and established speakers from the cross section of the industry to express their views about the current state of the industry and steps that could be taken to revitalise and reshape the future of the sector.
Attendees for this year's edition are going to enjoy meet with as many as 1000+ exhibitors, 20+ State Tourism Boards, 20+ International Destinations, 300 + International Participants, and a Subject-driven conference for knowledge gathering and sharing.
As the travel sector is regaining momentum with the opening up of international flights, SATTE will be a major epicentre for discussions and dialogues on the revival of the national and international travel industry while also coming up with solution-driven innovations to accelerate the growth of the industry.
On the occasion, MoS for Tourism Shripad Yeso Naik said, "SATTE has become the leading travel and tourism exhibition in more than two decades of its existence. It is a hub of idea and knowledge sharing between enterprising, creative minds and simultaneously coming up with well-crafted solutions to accelerate growth in the travel-tour industry. It has garnered huge support from diversified industries and international and national travel boards. An event of this magnitude is happening in India with humongous foreign participation and footfalls."
He further added, "The travel and tourism industry is one of the world's largest economic sectors. It has witnessed a huge spurt of growth in the post-pandemic period and is set to continue the momentum and continue on its path of revival."
The minister also echoed that the 'Dekho Apna Desh' initiative launched by Prime Minister Narendra Modi will boost the tourism industry in the country.
Commenting on the event, Yogesh Mudras, Managing Director, Informa Markets in India, said, "SATTE is a lucrative opportunity to have wholesome and rich interactions about the recent trends and know-how of the travel industry. The travel sector worldwide went through a roughshod due to the effects of coronavirus and as it is swiftly opening up with India projected to see a rise of 53 million industry jobs by the end of 2029 and estimated to grow up to $125 billion by 2027."
He added, "With key international and domestic presence, turnkey facilities for business and content rich conferences, and notable stakeholders' and association support, SATTE aims to help harness the strategy adoption discussions to revive the industry. This will help the sector go back to its top-notch form and even a scale higher, especially on potentially rich portfolios like cruises, adventure, medical, wellness, sports, MICE, eco-tourism, film, rural and religious tourism while comprehending the trends pivoted around them."
SATTE has received immense support from the Ministry of Tourism, Government of India, National and International Tourism Boards, Indian and International Travel and Trade associations and organizations amongst others. Indian states like Uttar Pradesh, Maharashtra, Gujarat, Kerala, Uttarakhand, Rajasthan, Tamil Nadu, Karnataka, Goa, Madhya Pradesh and others have affirmatively nodded for presence at the event. International Destinations like Saudi Arabia, Sri Lanka, Nepal, Maldives, Mauritius Tourism Authority, Singapore, Thailand, Indonesia, Azerbaijan, Israel, Turkey, South Africa, Malaysia, New Zealand, South Korea, Utah, Kazakshtan, Visit Brussels, Miami, Zimbabwe, Los Angeles and many more are also participating to exhibit at the expo. The event also gets a great response from private players.
Building new business partnerships and announcements will be the linchpin of the three-day expo event. SATTE 2022 will be upholding an edifying line-up of conferences to illuminate the industry about the limitless opportunities that the tourism industry caps. The conference lineup includes subjects such India Tourism: The Road Ahead!; Cinema & Tourism: Enhancing Destination's Image; Outbound Tourism: Refresh, Rebuild, Re-strategise; Ayurveda and Wellness Tourism: The Big Opportunity for India Tourism; ICPB Conference on MICE and Travel Technology: Making the Future Perfect.
SATTE has also gained massive support from key association partners like IATO, TAAI, OTOAI, ADTOI, TAFI, SKAL, ICPB, ABTO, TOA, ETAA and NIMA.