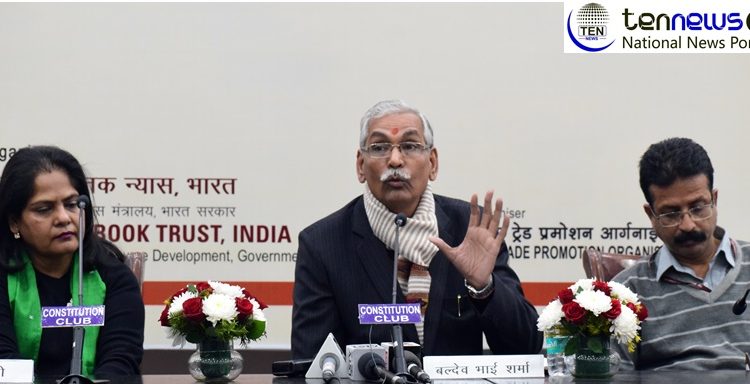 National Book Fair 2019 to be held from 5th-13th January in Delhi, Over 20 Countries will be showcasing famous write-ups
Vishal Malhotra (Photo/Video) By Lokesh Goswami Ten News Delhi :
New Delhi (03/01/2019) : The 27th Edition of Annual New Delhi World Book Fair, organized by National Book Trust, India in association with ITPO, will be held at Pragati Maidan, New Delhi from 5 to 13 January 2019.

Prakash Javadekar, Minister for Human Resource Development, Government of India will inaugurate the Fair at Hamsadhwani Theatre, Pragati Maidan, New Delhi on 5th January 2019.
Baldev Bhai Sharma speaking about the difference in previous Book Fairs and 2019 Book Fair said,
"This year, the New Delhi World Book Fair's theme is focused on 'Readers with Special Needs', especially children with emphasis on their reading needs. It is projected to carry forward the idea of Inclusive Learning, and explore various issues and dimensions of creating, producing and disseminating content for the readers."
"Over 20 countries including Abu Dhabi, Canada, China, Egypt, France, Germany, Kenya, Japan, Iran, Italy, Mexico, Pakistan, Poland, Saudi Arabia, Sharjah, Singapore, Spain, Sri Lanka, USA and international agencies like UNESCO, etc. are participating in the Foreign Pavilion at the Fair." He added.
Some of the well known writers both popular and critically acclaimed like Siddharth Basu, Surendra Mohan Pathak, Nikhil Devsar, Shah Alam Khan among others will engage in lively banters with the visitors at Authors' Corners.