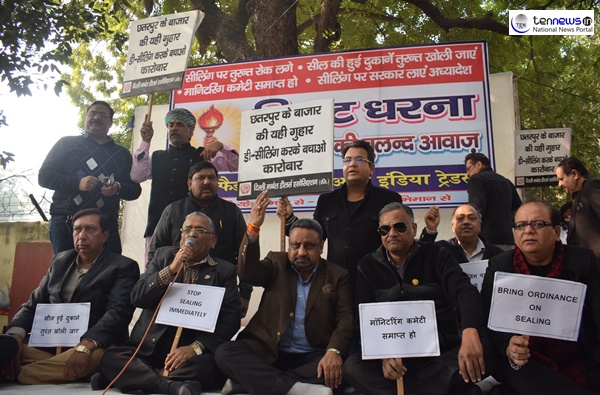 New Delhi: Today, Delhi traders held a strong protest at Jantar Mantar, New Delhi against the ongoing sealing drive in the National Capital, which has outraged their long standing business. Traders demanded the Government to take immediate steps to restrict sealing in the city which has devastated the trade to a greater extent and has affected livelihood of lakhs of people in Delhi.
Traders raised strong slogans, "Chatarpur ke bazaar ki yahi guhaar, de-sealing karke bachao karobar" with locks hanging in chains to their neck.
They challenged the ruling government chanting, "jo sealing hatwayega, so hi sarkar banayega".
Confederation of All India Traders (CIAT) has demanded the government to take firm steps to protect Delhi traders from sealing and as such should bring a Bill in current session of the Parliament.
CIAT National Secretary, Praveen khandelwal said, "sealing is one of the core and critical issue of Delhi traders which is directly linked with their earnings."
"From December, 2017 thousands of shops in Delhi have been sealed whereas the sword of sealing is hanging on another thousand shops" , he added.