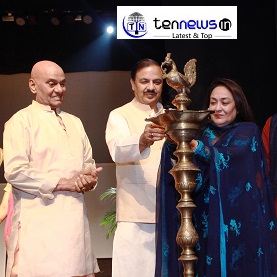 Natya Tarangini & Raja Radha Reddy hosted 20th Edition of Parampara Series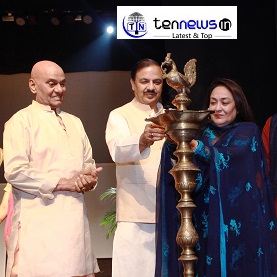 Natya Tarangini & Raja Radha Reddy hosted 20th Edition of Parampara Series
30th September, New Delhi:  Natya Tarangini & Raja Radha Reddy hosted 20th Edition of Parampara Series. The lightening ceremony was done by the chief guest Dr Mahesh Sharma, Minister of State.
On day One, the first performance were done by Raja Radha Reddy & Natya Tarangini Group who performed Kuchipudi Indian classical dance and the second performance were done by D.Srinivas , D. Sesha Chary & D. Raghava Chary who performed Veena & Carnatic Vocal. On day two, Shri Lokendrajit Singh from Imphal performed Manipuri Recital with their group and the second performance was by Ronu Mazumdar who performed Hindustan flute. And the last day of Parampara series concluded with the Contemporary dance by  Samudra Group from Kerala and Hindustani Vocal by Kaushiki Chakraborty.
Every year as a part of its endeavour to redefine and rejuvenate India's rich cultural heritage, Natya Tarangini and Padma Bhushans Dr. Raja Radha Reddy organize the 'Parampara Series' – National Festival of Music and Dance in capital city, New Delhi.
The Parampara Series 2016, which is conducted right after the soothing monsoon and just before the withering autumn, has stood firm for the last 19 years and is now synonymous with Delhi's annual cultural scene. Over time Parampara has blended concerts by presenting classical geniuses under creative themes giving uniquely fresh approach to otherwise traditional arts forms.
This year Natya Tarangini is presenting Parampara Series from the 30th September 2016 to 2nd October 2016 from 7 pm to 9.30pmat Kamani Auditorium (New Delhi). The festivals which will be represent some of the most successful dance productions of recent times in addition to musical concerts by legendary artists. As always the Parampara Series will showcase every evening two concerts (Dance and Music).