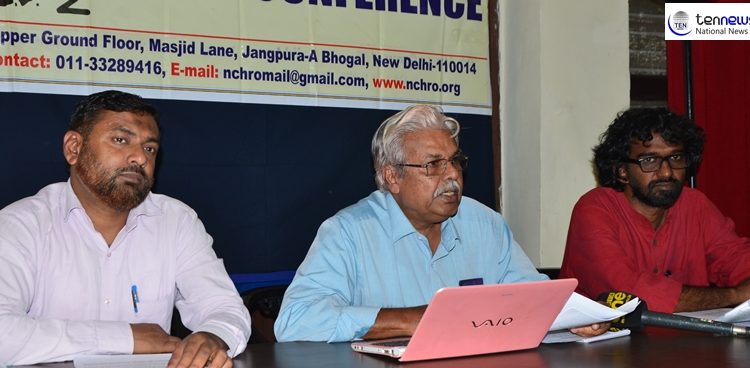 NCHRO Chair Person Condemn Attack on the Peoples Movements in Jharkhand!
PRERIT CHAUHAN (PHOTO/VIDEO BY SAURABH SHRIVASTAVA)
New Delhi: The incumbent BJP government in Jharkhand had reportedly arrested more than 4000 persons mostly adivasis for their participation in peoples movements and also had banned many organizations fighting for the rights of the people. Recently two such movements Mazdoor Sangathan Samiti (MSS) and Popular Front of India (PFI) were banned.
A Fact Finding Committee of NCHRO visited Jharkhand on March 23 and 24 and met some of the organization leaders, relatives of the people in jail and some social activists and spoke to them on the real situation that prevails now in Jharkhand.

MSS is a registered labor organization functioning in the mining and industrial areas in Jharkhand with more than 20,000 miners as its members from 1985 onwards. It is fighting for the rights of the workers. PFI is also a registered organization functioning from 2006 onwards in almost all southern states and also in some states in North and East.
Both of these organizations are banned by invoking S 16 of the draconian Criminal Amendment Act (CLA) which gives power to the government to ban any organization. However the BJP government ruling Jharkhand said that PFI is influenced by IS and some of its members had joined in it. But the government has not given any proof for its statement.
Prof A.Marx, Chairperson, NCHRO, Reny Ayline National Secretary,  Adv. Ansar Indori national Exco Member, Speaking to Ten News Said, "For the past two years the BJP government was threatening to ban PFI. On Feb 15 the minister of state for home affairs Kiren Rijiju said that the Kerala government has sought a ban on the PFI. The next day the Kerala CM  Pinarayi Vijayan refuted the statement saying that they never sought a ban on any organization including PFI. The next day the minister said that the DGP of Kerala had spoken about such a ban in the annual DGPs conference and this was also refuted from the office of the DGP, Kerala. In this background on Feb 22, 2018 the Raguber Das government ruling Jharkand announced the ban on PFI."