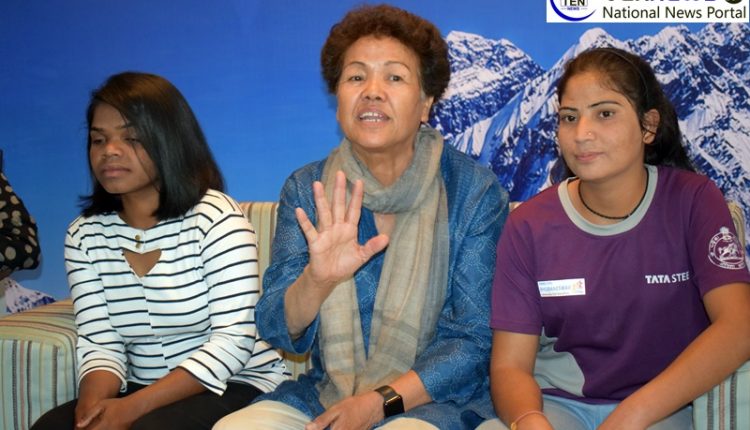 Aided by Tata Steel Foundation,Two Village Girls from India start journey to conquer Mount Everest
Kashif Hasnain (Photo/Video) By Lokesh Goswami Ten News Delhi :
New Delhi: With the aid of Tata Steel Adventure Foundation (TSAF) two village girls are going to live up their dream to scale world's highest mountain Mount Everest.
Three mountaineers including two girls Swarnalata Dalai, Poonam Rana, and their instructor Sandeep Toliya, are all set to begin mission Mount Everest 2018.
All the three mountaineers have been trained and mentored by well-know mountaineer and Chief Adventure Programme, Tata Steel, Bachendri Pal. The foundation made an official announcement of the the commencement of 'Tata Steel Mount Everest Expedition 2018' on Monday.

The three adventurers will be leaving New Delhi on March 27, 2018 by flight to Kathmandu for their Everest Mission. They will start the trek from Jiri, which is along the route taken by Bachendri Pal during her Mount Everest Expedition in 1984. This will further help the climbers to build on their mental and physical fitness.
Speaking about the expedition, Chief, Adventure Programme, Tata Steel Bachendri Pal, said, "Tata Steel has always believed in empowering individuals to stand up to the challenges in their lives and scale new heights. Mt. Everest represents the epitome of challenge that tests the abilities of human endeavor, leadership, strengths and weaknesses. The skills and expertise learnt for an expedition to scale Mt. Everest helps the climbers to become leaders in their spheres of life and in contributing significantly to the community and the organisations they work for. " She further added, "We wish the very best to our three mountaineers for their conquest of Mt. Everest."
The two girls and the instructor have been through rigorous training programme by TSAF. The trio has been trained to navigate extreme climatic conditions and to carry heavy load up and down the mountain slopes, and sleep in tents like they will be doing on Mt Everest.
For the past one year, the mountaineers have been provided the right exposure and opportunity to participate in various expeditions to improve their mountaineering skills and stamina, thereby preparing them for Mt Everest.
A participant Swarnalata Dalai, 20-year old tribal girl from Odisha known for her mountaineering skills and excellent performance in mountaineering.
In 2017, Dalai had participated in Mt. Rudugaira Expedition under the Biju Patnaik Himalayan Expedition. She is being supported by TSAF and Ministry of Sports and Youth Affairs, Government of Odisha.
While, Poonam Rana, a 21-year from Uttarakhand who has completed her basic and advance in mountaineering courses and trekked to Everest Base Camp in April 2017. She has been working with TSAF as camp in-charge.
Sandeep Toliya, who is associated with TSAF since 2008 is their instructor and will guide them during their journey.