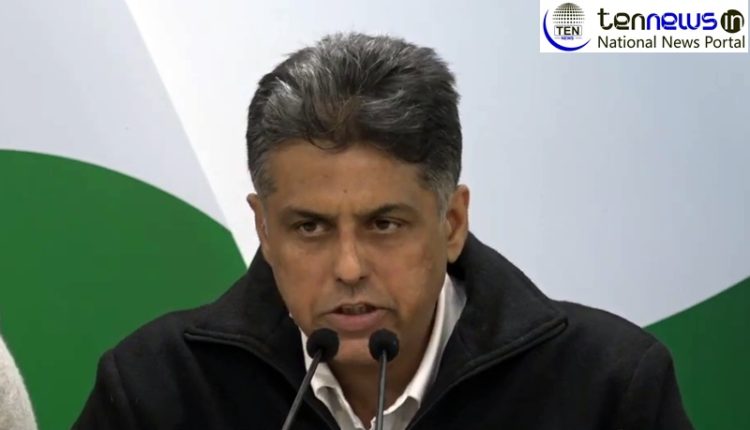 NDA govt doesn't have the electoral mandate to present 6th Financial Budget: Congress Spokesperson Manish Tewari
Shaihzad Abid (Photo/Video) By Lokesh Goswami Ten News Delhi :
New Delhi: Ahead of 2019 Lok Sabha elections, the allegations war political parties on each other was already started. Political heavyweights are busy in leveling allegations on their rivals, no matter these allegations are materialistic or doesn't have any existence.

On January 24, Former Congress Minister, Manish Tewari, point out the BJP-led NDA government that the government should not present 6th financial budget as in its tenure they have already presented 5 financial budgets and a government can only propose a maximum 5 budget in its tenure.
Opposing the ruling government's move, while addressing a Press Conference, the former minister said, "We would like to draw your attention today to an extremely serious and grieve issue that has very pretentious constitutional ramifications, if the reports which are appearing in public space are correct that on February 1, the BJP-led NDA government is planning to present a full-fledged union budget than it would be a flagrant violation of all parliamentary conventions procedures and traditions which have been followed over the past 7 decades ever since the constitution of India came into effect the NDA govt doesn't have the electoral mandate and it doesn't have the electoral legitimacy to present 6 full budget in five years, if you recall when the NDA govt assumed office in the May of 2014 they presented financial budget 2014-15, 2015-16, 2016-17, 2017-18, 2018-19, the NDA government had already presented 5 full-fledged union budget and it doesn't have the mandate or the legitimacy to present 6th budget."
The ruling government is supposed to present its last financial budget on February 1.