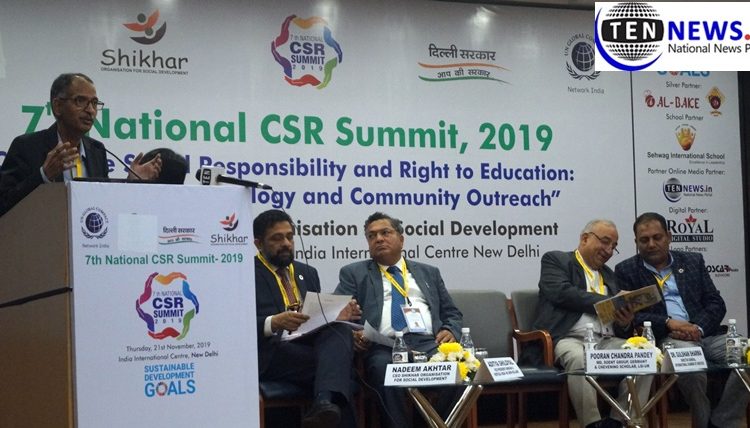 New Education Policy to change the face of Education: Union HRD Minister Dr. Ramesh Pokhriyal at 7th National CSR Summit by Shikhar NGO
Saurabh Kumar (Photo-Video) Lokesh Goswami Tennews New Delhi :
New Delhi: On November 20, Union HRD Minister Dr Ramesh Pokhriyal Nishank visited 7th National Corporate Social Responsibility Summit as a Chief Guest which was being organized by Shikhar Organisation at India International Centre. The theme of the summit was 'Corporate Social Responsibility and Right to Education: Innovation, Technology and Community Outreach'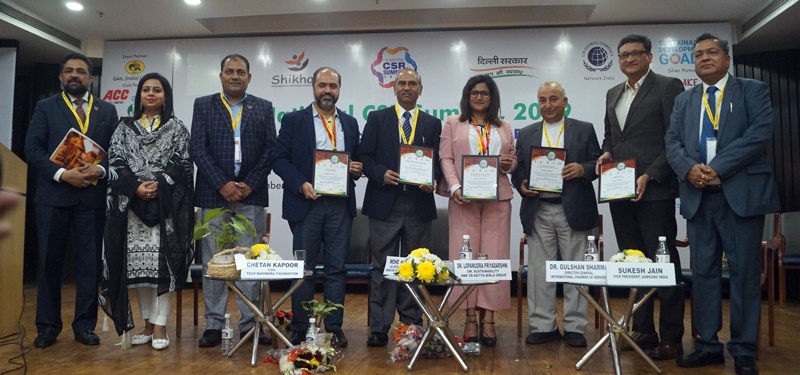 The event challenged attendees to re-imagine about new models, collaborations and approaches that can address development issues in Quality Education facing our country.
Eminent panelists discussed the future possibilities on enhancing opportunities to improve status of education under CSR addressing the challenges of the society in the light of amended Companies Act 2013, Clause 135. In view of this, the summit deliberated upon the changing dynamics of CSR and new paradigm of multi-sectoral partnerships.
Speaking at the event HRD Minister talked about the new education policy that is being prepared. He said, "The policy will include sports, moral values and every aspect of life. We have done a lot of discussion over the policy and seeked suggestion from more than 2 lakh people accros the country and also tried to implement those suggestions in the policy. Over 80% of the people appreciated the policy and soon it will be implemented.'
Further he emphasized on the management of time and said 'Jo samay ko Jinda nahi rakhta use samay ne maar diya', positive approach and hard work are key to success. He also presented some amazing facts about Indian education and said 'We send 30 crore students to school which is all most equal to USA population.'
Dr R K Suri summit Director welcomed everyone in his welcome note and presented a brief overview of the summit.
Pooran Pandey, Summit director in his address detailed about the theme of the summit and said 'I am attending this summit from past 7 years and we started this when nobody talked about CSR. So I would like to thanks Shikhar for this great initiative.'
Talking about the impact of CSR and RTE, he said 'it brings immediate and sustainable impact on the education. After induction of Sarva Shiksha Abhiyan the school witnessed a drastic decline in dropout rate of children's. Infrastructure through provision of additional class rooms, toilets, drinking water, maintenance grant and school improvement grants improved.'
Talking about innovation and Technology the two major component for sustainable development, Mr. Pandey said innovation does not mean just to work with technology but how equipped one is with it. One needs to have a mother teacher equation.
Emphasing on the scope of tourism in India, Gulshan Kumar DG, International Chamber for Service said "Cinematic tourism & Medical tourism has great opportunities in India we just need to know how to harness it. Many of the South Asian countries doing tremendous job in this filed. Giving example of Vietnam he shared and reveled some interesting facts and data."
He also detailed about the work done by his department in this field and how they exported teachers to African countries.
Aditya Ghadiyal Vice President of Shikhar presented vote of thanks for the 1st technical session.
Chief Guest for the event DGP T Krishna Prasad speaking at the summit first revealed some facts and said 'In 1947 our 49 % pollution was below poverty line but in present time also 29% of pollution is still below BPL which is concerning for us and we need to work extensively in that direction.
He later detailed about the changes he made in the police department. He told how he worked for the justice for the prostitute living in red light area, how they were being treated as criminal but in actual they are the victims. He also wrote a book over the issue which highlights the mistakes that happened from state side.
During the last session, 17 specially abled people were felicitated who traveled 3500 from Delhi to Mumbai and visa versa. Apart form this many of the other organizations like Sparsh Ganga, Franciscan Solutions and many other also got facilitated for their exceptional work.
At last Nadeem Akhtar CEO of Shikhar presented vote of thanks and said 'First I would like to thanks every one for their presence instead of their busy schedule. I would also like to thank all the sponsor and partners in the summit. We as a organization is trying to empower vulnerable section of society by building their capacities through education, vocational training for persons with special needs. And this way want to contribute in nation building. We are running two police public Library and in future planning to open 5 more.'
Video Highlight Of 7th Shikhar CSR Summit 2019:- //tnnews.in/video-highlight-of-7th-shikhar-csr-summit-2019/
Photo Highlight Of 7th Shikhar CSR Summit 2019. //tennews.in/photo-highlight-of-7th-shikhar-csr-summit-2019/