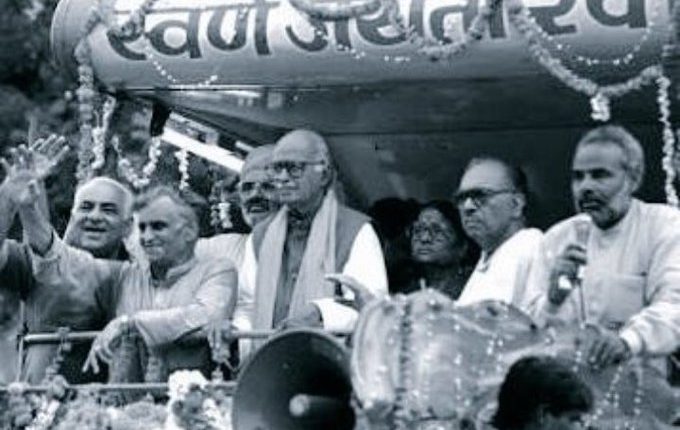 No invite to patriarch of Jambhoomi movement? #InviteAdvaniToAyodhya trends of twitter!
Ten News Network

Ayodhya (Uttar Pradesh): As the tiny temple town on the banks of river Yamuna gets all decked up and ready to witness the historic moment of Ram Temple's foundation laying ceremony, locals couldn't help but acknowledge something missing from the moment – the BJP veteran Lal Krishna Advani.
Advani, now is early 90's has been at the helm of a mass movement for the construction of Ram Temple, for over two decades. Be it his Somnath to Ayodhya Rath Yatra, which couldn't be completed due to his arrest in Bihar, which in turn led to BJP withdrawing support from VP Singh's government in Centre.
Later he was part of a massive rally called near the disputed structure, which finally led to the demolition of Babri masjid.
Being one of the accused in the ongoing Babri masjid demolition case, Advani even faced a questioning by CBI, few weeks back.
Indeed as the reports of him not receiving an invitation for the foundation stone laying ceremony, started doing rounds on the social media, many users start trending a demand to extend him an invitation.
Many pictures, videos and posts were shared using #InviteAdvaniToAyodhya
Meanwhile, other conformed attendees of the event include Kalyan Singh and Uma Bharti. The preparations in Ayodhya are its peak and measures are being taken as per security and Covid-19 saftey protocol