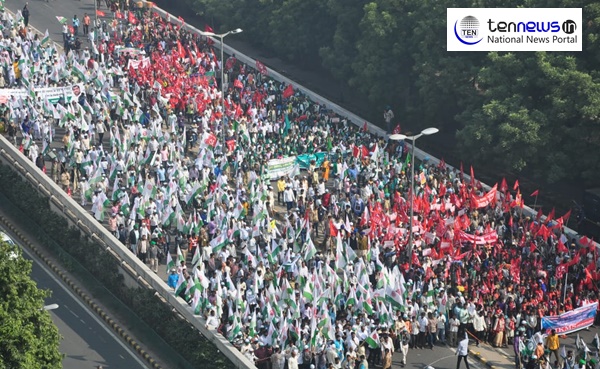 New Delhi : The Kisan Mukti March (Farmers Liberation March) saw a participation from all states in the country. It was being organised by the All India Kisan Sangharsh Coordination Committee (AIKSCC), a joint front of 208 farmers organisations and civil society groups.
Their main demand was that the 21-day special session of the Parliament should be called to discuss the raging agrarian crisis that has led to over 3 lakh farmers' suicides and ruination of many more. The special session should discuss and pass the two Bills prepared by a Kisan Parliament last year to ensure liberation from debt and assured remunerative prices.
Speaking to Ten News Yogendra Yadav said that,
"The real face of India is once again visible in the capital Delhi as thousands of farmers arrived to highlight their distress and demand from the indifferent Modi govt. that laws should be passed for complete debt waiver of all farmers and higher prices be ensured for agricultural produce. This huge expression of farmers' unity and strength stands in marked contrast to recent attempts by RSS and various Hindu fundamentalists to whip up support for a law for building a Ram temple in Ayodhya.
The past few years, especially the Modi period, have seen a growing tide of farmers' protests which have been growing in sweep and scale. Starting with the massive struggle for protection of land rights and against unjust land acquisition within a year of the formation of the Modi govt. the movements of farmers burst out repeatedly in several states, mostly on the twin issues of low prices for produce and consequent indebtedness."
Delhi Chief Minister Arvind Kejriwal also witnessed the protest where while adressing farmers he said,
"The country where a farmer himself is suffering with hunger, that country can never prosper. 
In our border, jawan is unhappy. In country, farmer is unhappy.
That you had to march to Delhi to be heard is sad.
BJP said they will implement Swaminathan Commission report. They'll give 100 Rs profit or 50. Affidavit has been submitted in court now that the report can't be implemented, there can't be any greater betrayal than this. Take the affidavit back, implement the report or come 2019 and these farmers would rise in revolt against you."
Congress leader Rahul Gandhi also addressed the protest and he said,
"Today there are 2 issues in front of India. The fight is for youth and farmers' futures. BJP, Modiji has waived 3 and half lakh crore of loans of his rich friends.
We are only talking about justice. If their loans can be waived, then the farmers' loans will be waived.
India's farmers aren't asking for gifts. He is asking only his due.
Prime Minister said you'll get bonus, MSP, and what happened today? All your money goes to Anil Ambani's pocket.
Farmers aren't asking for Ambani's aircraft. If you can wave their loans, then you should waive farmer loans.
We are with you. You feed the nation. You wake up at 4 am and give your blood to the nation. Whatever you say, we will do that."
Last November, a massive three-day Kisan Sansad took place in Delhi where thousands of farmers and families of many of those who had committed suicide took part. The Sansad 'passed' the two Bills and urged the Parliament to formally pass them and save the farming community of India from death and destitution. On 9th August this year, a Jail Bharo (Fill the Prisons) agitation was held across the country on the anniversary of the Quit India Movement which saw over 5 lakh peasants and workers taking part.
On 19 September this year, the farmers organisations and concerned citizens wrote an urgent appeal to the President of India urging him to ask the govt. to convene a Parliament Session and pass the two laws. The letter to the President said:
"We request your intervention as the President of the Republic of India and the Constitutional head to ensure that a crisis of this scale that renders 70 per cent of Indian citizens vulnerable is addressed by a joint session of the Parliament of this country. In the recent past there was a midnight joint session of the Parliament to discuss the Goods and Services Tax. Surely the precariousness of the lives of millions of citizens merits the undivided attention of Parliament and thereby its commitment to find enduring solutions."
It pointed out the continuing struggles of various sections of working people in the country and the shameful failure of the Modi govt. to address their problems.
One feature of the ongoing farmers' struggles has been the increasing convergence with industrial workers' movement that has been fighting for better wages and other demands. The 5th September Mazdoor-Kisan Sangharsh Rally this year saw lakhs of peasants, agricultural workers and workers marching together on the streets of Delhi.
It is this recent legacy of struggles that is woven together and expressing itself in the powerful Kisan Mukti March in Delhi. Meanwhile, spurred by the plight and fighting spirit of the oppressed farmers, several middle-class urban organisations too have decided to express solidarity with them and joined the March.