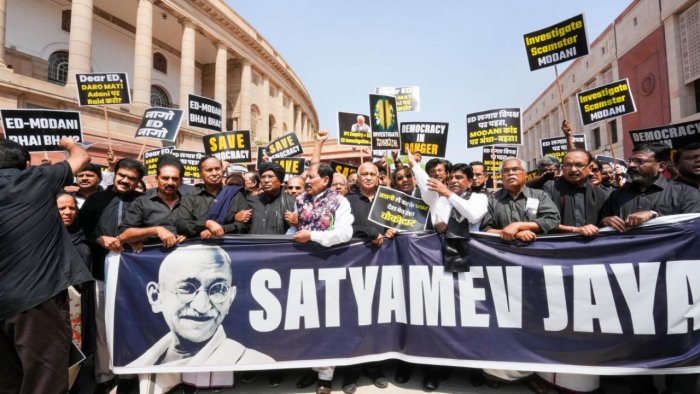 New Delhi (India), March 27, 2023: In a display of defiance, Members of Parliament from the Congress and several other opposition parties donned black attire in protest against what they termed the "illegal disqualification" of Rahul Gandhi from the Lok Sabha.

The situation turned chaotic soon after the House commenced proceedings, with Congress MPs T. N. Prathapan Hibi Eden, Jothi Mani S., and Ramya Haridas storming towards the well of the House, tearing papers, and hurling them at Speaker Om Birla. The unruly behavior forced Birla to adjourn the House within seconds of convening.
Other opposition MPs, including those from the Dravida Munnetra Kazhagam (DMK), Nationalist Congress Party (NCP), the Left, and Bharat Rashtra Samithi (BRS), also sported black attire in solidarity.
Members of the Trinamool Congress covered their mouths with black bands. Holding placards that read "Jago ED" and "ED Modani Bhai Bhai," the MPs continued their protest even after the House was adjourned, with torn papers being thrown at the Speaker's chair.
After the proceedings were adjourned, the opposition MPs gathered in front of the Mahatma Gandhi statue, where Congress leaders Sonia Gandhi and Mallikarjun Kharge were present, to stage a brief protest. The opposition then marched toward Vijay Chowk, raising slogans in unison.
The protests come amid the ongoing controversy over Rahul Gandhi's disqualification from the Lok Sabha and his conviction in a 2019 defamation case. The opposition has been vocally critical of the ruling party's handling of the issue, calling it an infringement of democratic principles.