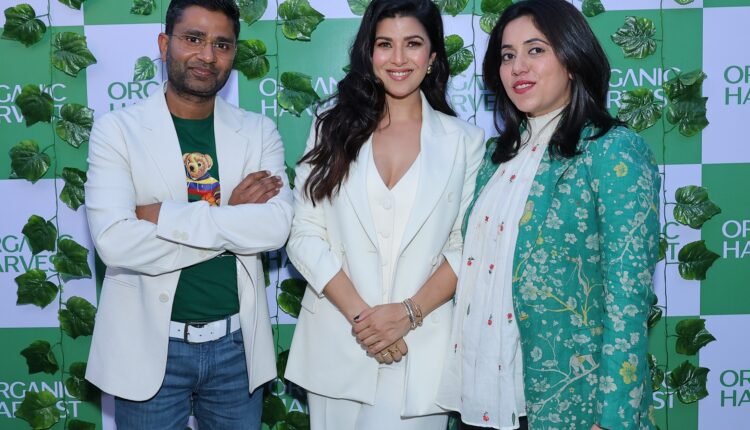 Organic Harvest presents itself in a new avatar with actor Nimrat Kaur
New Delhi, February 9, 2023 – India's leading beauty and personal care brand, Organic Harvest presents itself in a new avatar with actor Nimrat Kaur as the face of the campaign. Reinstating its purpose of bringing 100% certified organic beauty products to the Indian consumer, the brand kick-started this exciting chapter with the launch of a new portfolio of products and an intimate celebration of all things organic in the national capital on Wednesday, February 8.

With this announcement, Organic Harvest launched a charming new TVC featuring actor Nimrat Kaur. Fresh, youthful and enlightening, the ad film urges the consumer to think about organic as the purest natural. Presenting the Organic Harvest Brightening Face Cream with Kakadu Plum, which has 100 times more Vitamin C than oranges, it urges one to question whether they are completely sure how natural their natural products really are and hence, choose Organic Harvest that offers products that are 100% certified organic. Organic Harvest presents a skin brightening range, youthful glow range and hair fall control range, among many other products to indulge in with new-age ingredients like kakadu plum, acai berry, saffron, oat milk and castor oil, that go through rigorous processes to maintain their purity and potency.
Gracing the occasion with her presence, actor Nimrat Kaur shared, "I have grown up with an inherent love for all things organic. Be it fresh produce straight from the farm or DIY beauty rituals, I truly believe in the power of organic ingredients for a healthy lifestyle. For me, Organic Harvest has been a trustworthy brand that has always delivered the best and purest products. I'm excited to be the face of the brand's new campaign and TVC, showcasing its commitment to bring forth organic as the purest natural."
The event kickstarted with a stellar panel discussion with renowned dermatologist Dr Kiran Sethi; Rahul Aggarwal, Founder, Organic Harvest; Sukhleen Aneja, CEO, Good Brands Co, at The Good Glamm Group and Actor Nimrat Kaur. The panel was moderator Malini Agarwal, Co-founder, Good Creator Co. and Founder, Miss Malini.
The illustrious panel had an intriguing conversation on all things organic while emphasizing on the importance of organic certification that ensures the products are completely pure and potent. The discussion was followed by actor Nimrat Kaur unveiling the brand's new range. Furthermore, the audience engaged in an organic activity to demonstrate how organic is the purest form of natural. To complement the vibe of the evening, vegan and organic hors d'oeuvres were served.
Speaking about this exciting new chapter, Rahul Aggarwal, CEO & Founder, Organic Harvest, said, "Organic Harvest was born out of the desire to bring the essence of 100% certified organic, toxin-free skincare products to the Indian beauty industry. What started as a humble dream ten years back has now transformed into an ambition—to highlight the advantage of organic as the purest natural and make Organic Harvest the go-to brand for natural beauty seekers. With this new avatar, we are all set to create only the best with our extensive product offerings and experiences that will transform the way consumers perceive the world of natural."
Sukhleen Aneja, CEO, The Good Brands Co., The Good Glamm Group, added, "Organic Harvest has been offering authentic organic beauty and personal care products in India for years and even before 'organic' became a trend and a buzzword among consumers. I believe the brand best reflects the increasing consumer fondness for ethically sourced, potent and the purest of natural beauty care products. With this brand new avatar, we aim to strengthen the brand's positioning as India's beloved, 100% certified organic beauty and personal care brand."
With this beautiful new beginning, Organic Harvest stays true to its world-class sustainable practices and end-to-end, toxin-free production processes that have been recognized as '100% Certified Organic' by USDA and ECOCERT, globally trusted, independent certifications for social consciousness and eco-friendly production practices. From the procurement of raw materials to the finished result, every Organic Harvest product goes through a stringent, earth-friendly, quality control process to ensure there is no trace of synthetic and harmful ingredients. All this and more is done to ensure that the consumers get certified organic products that they can trust without worrying if they are natural, or how natural or efficacious they are.