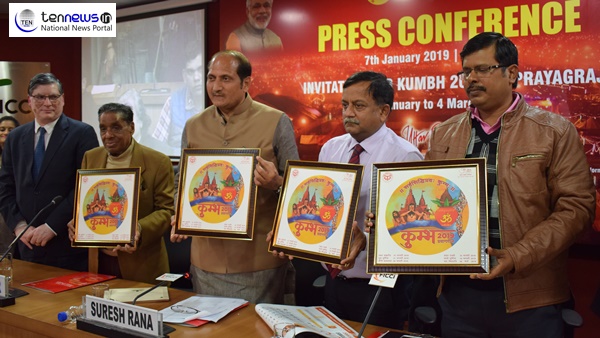 New Delhi (07/01/2019) : Today, at a conference regarding Kumbh Mela 2019 was held in the Capital.
Suresh Rana, Minister of State (Independent Charge) for Sugarcane development, Sugar Mills & Industrial Development, Govt. of UP was the chief guest at the session.
IAS Awanish Kumar Awasthi who is the Additional Chief Secretary of Tourism and Religious Affairs shared a presentation on the Kumbh Mela 2019.
Speaking at the session MoS Suresh Rana said,
"When we talk about the efforts made by the Chief Minister, Yogi Adityanath, the historical and mythological importance has been restored by changing its name to Prayagraj as per the sentiments of the people. The Uttar Pradesh Government under the leadership of the Chief Minister is making elaborate arrangements for successful organisation of Prayagraj Kumbh-2019. The state government is endeavouring to provide a devotionally and spiritually changed atmosphere to pilgrims coming to Kumbh."
"Over 5000 NRIs will also visit the Kumbh owing to the joint efforts made by the Prime Minister and the Chief Minister. In this world's most massive human congregation of humanity, people of over 6 lakh villages of India along with the overseas devotees will participate," he added.
By the efforts of state government and the cooperation extended by the Ministry of Defence, Government of India, the devotees coming to the Kumbh will have an opportunity for the first time in the last 450 years to pray at 'Akshay Vat' and 'Sarasvati Koop'. The Kumbh is organised at Triveni Sangam, but it is related to entire Prayagraj area. Keeping this in view, the state government has beautified all the places directly or indirectly linked to the Kumbh. For convenience of devotees and tourists visiting the Kumbh, the facility of reaching there by air, road and river has been made for the first time", said IAS Awanish Kumar Awasthi while speaking to Ten News .
The state government is committed to organising a grand and divine Kumbh. The state government has already launched the a new logo of Prayagraj Kumbh-2019 in accordance with the nature of the event. Special priority has been given to providing better facilities to the devotees and tourists in the Kumbh and giving them a pleasant experience.
Suresh Rana while speaking to media after the session said,
"The state government is making efforts to realise the concept of making the Kumbh event a representative of India's 'Sanatan' and inclusive culture. The objective of this event is to make efforts to familiarise the world with the high quality life, conduct and thoughts of Indian culture through Kumbh.