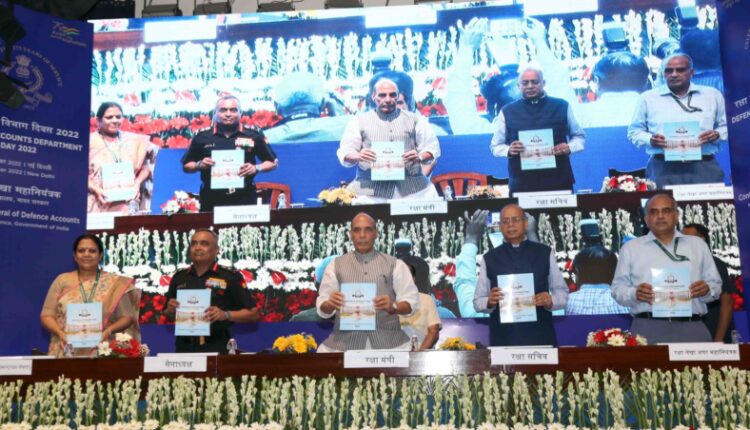 Delhi, Oct 1st,2022: The 275th edition of the Annual Day of Defence Accounts Department was celebrated on Saturday during which Defence Minister Rajnath Singh launched a payment system for agniveers and the SPARSH mobile app.
Other key initiatives unveiled by him were the International Air Ticket booking module in Defence Travel System (DTS), Defence Accounts Receipts and Payment System (DARPAN), Defence Civilian Pay system, and Defence Accounts Human Resource Management System.
"On the occasion, Rajnath Singh also gave away the Raksha Mantri Awards for Excellence 2022 to three teams for exhibiting exemplary initiative in implementing key department projects – development, testing, and implementation of SPARSH; implementation of E-Concurrence in DRDO and Pay and Accounts Office (PAO) Bharati: Your PAO, A call away 24*7″, said a press release from the Ministry of Defence.
The SPARSH mobile app was created to ensure pensioner access and reach important functionalities of the SPARSH portal through their mobiles. It is an end-to-end solution to all pension-related processes, from claim initiation to disbursement. Pensioners can log on to the portal and get their pension-related issues resolved.
The Agniveer Pay System will facilitate efficient pay management for Agniveers, who will soon join the Armed Forces through the Government's transformational Agnipath scheme.
The fully automated IT system will be a specialized and secure portal to ensure claim processing and payroll management of Agniveers. Rajnath Singh also inaugurated a centralized PAO (Army) for Agniveers at Delhi Cantonment.
"Our endeavor is to provide best services to the serving & retired personnel as well as their families", Singh said.
Unveiling the SPARSH mobile app, the Defence Minister said that quick & quality disposal of pensioners' grievances should be the top priority.
Defence Secretary Dr. Ajay Kumar, Chief of the Army Staff General Manoj Pande, Financial Advisor (Defence Services) Rasika Chaube, Additional Controller General of Defence Accounts Avinash Dikshit, and other senior officials of the Ministry of Defence were present during the event.