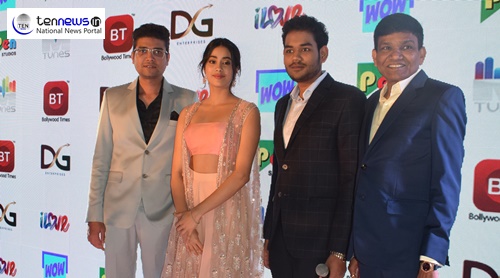 New Delhi: Jayantilal Gada's film production and distribution company Pen India launched a new TV channel 'WOW' in National Capital today.
After making a mark in the Indian entertainment space for over three decades, Jayantilal Gada, owner of Pen Studios, will now offer a new property to TV aficionados. His new channel, WOW, was unveiled at a star-studded event in Delhi today. The Program was graced by the father and daughter Boney Kapoor and Jahnvi Kapoor.
WOW will be offering best of cinema and music on the small screen. The channel will be helmed by his younger son, Akshay gada.
Celebrated producer Boney Kapoor and his daughter, Jhanvi, who has just ventured into Bollywood with her first film, Dhadak. Jhanvi Kapoor, who is set to foray into films gave her best wishes and introduced Akshay on stage.
Congratulating akshay janhvi said,
"My heartiest congratulations to all of you. I would like to wish Akshay all the best for his future endeavours. With the power of Jayanti bhai, I am sure Akshay will be able to conquer the market."
Addressing the media,
Jayantilal Gada said, "When I started out, I was joined by my elder son, Dhaval Gada, who dedicatedly took our TV and film production business to the next level. When my younger son, Akshay Gada, expressed his interest in the digital space, we thought of coming up with WOW, as both digital and broadcast go hand-in-hand and complement each other."
Interacting with the media Akshay said, "I want WOW to provide non-stop entertainment to the viewers by curating handpicked hit content so that every time you tune into our channel, your heart should say, 'WOW'. I am banking on our programming schedule that includes love songs at 8 am, followed by a movie at 2 pm and more movies from 10.30 pm."